Advertisement

  

Advertisement

Small cars rule Day 1 at Auto Expo
January 05, 2010 20:09 IST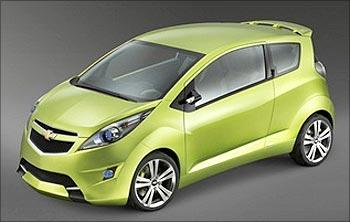 Eyeing the volume segment in India, big car makers, including Honda, Toyota and Volkswagen, on Tuesday showcased their small cars here on the first day of the week-long 10th Auto Expo.
While the compact cars were the cynosure of all eyes, green technology also made a strong presence with many companies showcasing hybrids and alternate fuel vehicles.
Most of the companies are eyeing to garner a sizeable chunk in the Indian car market which is heading towards the milestone of two million units a year.
Honda showcased its concept small car developed with the Indian market in mind. Priced less than Rs 5 lakh (Rs 500,000), it is due for launch in 2011. Japanese Toyota also unveiled its concept small car which will be introduced in India by early 2011.
German car-maker Volkswagen unveiled its much-awaited hatchback Polo which will be pitted against the likes Honda Jazz and Hyundai i20. Polo will hit the roads March this year.
General Motors exhibited its newly launched compact car, Beat, which is expected to become a price warrior in the compact car segment with a tag ranging from Rs 3.34 to Rs 3.94 lakh (Rs 334,000 to Rs 394,000).
However, passenger car market leader Maruti Suzuki India decided to create a new segment in small multipurpose vehicle (MPV) arena by displaying concept vehicle 'rIII'.
On the other hand, Tata Motors [Get Quote] unveiled its crossover vehicle Aria, passenger carrier Magic Iris and another MPV Venture.
On the green technology front, Toyota unveiled its world's best selling hybrid Prius, which will make its way to India by March this year. It also launched CNG version of its luxury sedan Corolla Altis.
Meanwhile, General Motors showed Chevy Volt along with the electric-Spark, developed jointly with Reva Electric Car, sedan Aveo CNG and LPG variant of its small car, Spark.
Honda showcased its hybrid concept CZR, while Maruti Suzuki displayed the hybrid SX4, which will be used at the Commonwealth Games in October.
On the luxury front, Tata Motors-owned Jaguar Land Rover showcased the latest Jaguar XJ, while BMW launched two vehicles costing over Rs 1 crore (Rs 10 million) -- BMW X6M and BMW 760Li --  and another model Gran Turismo with a tag of Rs 63 lakh (Rs 6.3 million).
Another luxury player Audi displayed the new version of SUV Q7, which will be priced at Rs 65 lakh (Rs 6.5 million) and sedan A6, priced at Rs 37 lakh (Rs 3.7 million) along with its concept Sportback -- a five door model.
Mercedes showcased its concept car along with its sedan SLS AMG Desert Gold that will be priced over Rs 2 crore (Rs 20 million), when launched in India. The company did not disclose the timeframe for bringing the car in India.
Image: Chevrolet Beat.
© Copyright 2009 PTI. All rights reserved. Republication or redistribution of PTI content, including by framing or similar means, is expressly prohibited without the prior written consent.