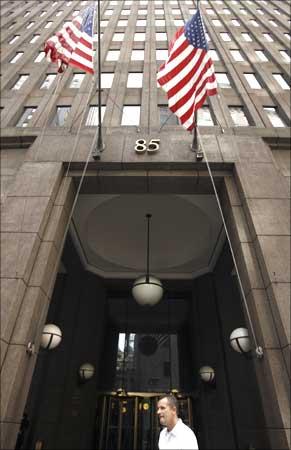 Securities Exchange Commission, the American market regulator, on Friday charged investment banking major Goldman Sachs with fraud in th esubprime mortgages issue, saying that Goldman did not disclose key facts to investors leading to heavy losses to them.
The US regulator said that even as the American housing market was floundering Goldman sold complicated subprime mortgage securities to unsuspecting investors from whom the fact that a big hedge fund had bet against these securities was hidden.
The SEC announced charges against Goldman Sachs and one of its vice presidents, Fabrice Tourre, who is said to have helped sell the mortgage securities.
Goldman Sachs was one of the few investment banks that survived the financial tsunami that hit the globe.
Newspaper reports say that this is the first time that the authorities have moved against a Wall Street deal that helped some financial biggies gain at the expense of the small investor in the housing market collapse.
Image: A man walks past the Goldman Sachs headquarters building in New York. Photograph: Lucas Jackson/Reuters