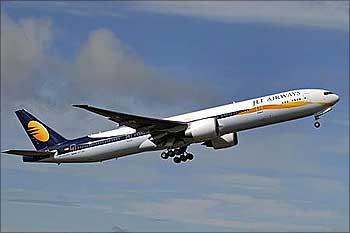 Jet Airways on Friday said it will raise fares by 10-15 per cent as early as this month to offset rising jet fuel prices -- a decision that possibly stems from confidence about returning passenger demand.
Fares are set to rise by 10-15 per cent in April-June over January-March period, Jet Airways vice president (revenue management) Shiv Kumar said.
Jet fuel (ATF) prices have been on the rise on the back of crude nearly doubling from last year's level to trade at $86 a barrel level now.
Kumar, who said crude prices are a concern, added that volumes were seen rising, particularly on domestic routes -- which may be influencing the pricing decision.