November 18, 2009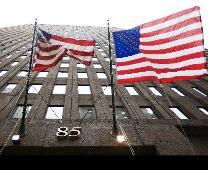 The head of Goldman Sachs, Lloyd Blankfein, has apologised for the role the financial services major played in pulling down Wall Street titans that rattled the entire world.
Blankfein at a conference in New York said that Goldman had made mistakes, and that it was sorry, the New York Times said.
"We participated in things that were clearly wrong and have reason to regret. We apologise," Blankfein said. This statement comes a little more than a week after Blankfein drew fire for saying that the Wall Street giant was 'doing God's work'.
Besides, Goldman Sachs was also labelled as a 'bloodsucking vampire squid'. The New York Times further said, 'across Wall Street, banks have regained their profitability -- but not their public standing.
'With big banks minting money while many ordinary Americans are struggling, the financial industry has become the object of derision.'
Goldman Sachs has bounced back spectacularly from the financial crisis and so far this year it has earmarked $16.71 billion as compensation.
In June this year, Goldman Sachs repaid $10 billion of capital infusion it got from the US government in 2008. The daily further said that 'while its fortunes have soared, its reputation has sunk.'
Meanwhile, Goldman Sachs has started a $500 million initiative to support small businesses across the United States with legendary investor Warren Buffett as an adviser.
The announcement of this charitable initiative comes amid public anger over Goldman Sach's compensation package. Blankfein is not the only one who had sought apology for playing a pivotal role in creating the crisis.
Two weeks ago John Reed, who had helped in creating Citigroup, the world's largest and financially unwieldy bank, repeatedly apologised for the mergers. "I am sorry," he had told Bloomberg.
"These are people I love and care about. You could imagine emotionally it's not easy to see what's happened."
Image: Goldman Sachs