November 17, 2009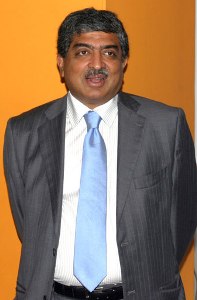 About half of the country's total population will get their Unique Identification numbers within the next five and half years, chairman of Unique Identifaction Authority of India, Nandan Nilekani said on Tuesday.
The number of the people who would get the numbers would be over 600 million, Nilekani told reporters in Patna.
To a question, the co-founder of INFOSYS [Get Quote] said the authority would begin providing the 16-digit number to the people of Bihar in the next 18 months.
Expressing satisfaction over Bihar's progress in information techonolgy and lauding schemes like E-shakti, he said "it is a good sign that the state government is giving due importance to biometric projects."
Image: Nandan Nilekani