November 11, 2009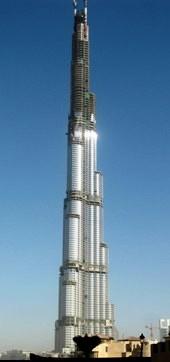 Burj Dubai, world's tallest tower being built in Dubai, is nearing completion with the final leg of work on interiors and landscaping under progress, the developer of the project has announced.
Three huge tower cranes, used in moving over 63,300 tonnes of steel reinforcement up to Level 156 of the tower and were operational for a total of 45,000 man-hours, have now been removed, Emaar Properties said.
"Working at great heights involving the use of massive cranes has been one aspect of the challenge. Dismantling the cranes is an exciting development as it shows that completion of the world's tallest tower is just around the corner," Mohamed Alabbar, chairman, Emaar Properties, said.
The tower will provide residence, retail and leisure facilities and is at the centre of Downtown Burj Dubai, a 500-acre mega-development.
A team of 35 skilled technicians manned the cranes and operators of the cranes worked at more than 700 metres, almost double the height of the Empire State Building, a critical component of the 11,000-strong workforce devoted to the construction of Burj Dubai.
"No high-rise construction project has moved the same volume of materials as this. The way cranes have been used to complete the tower writes a new chapter in super-tall tower engineering," Abdullah Lahej, executive director of Dubai Project Management at Emaar Properties said.
Burj Dubai will open on January 4, to coincide with the Accession Day of Sheikh Mohammed Bin Rashid Al Maktoum, UAE vice president and prime minister.