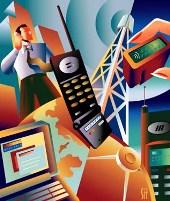 The Supreme Court has issued notice to 11 parties, including Telecom Regulatory Authority of India, Reliance Communications, Tata Teleservices, Vodafone Essar, on a petition by state-run Bharat Sanchar Nigam Limited challenging removal of access deficit charge, a levy paid by private telecom operators for funding the PSU's operations in rural and remote areas.
A Bench headed by Justice Altamas Kabir sought an reply from 11 repondents Telecom Regulatory Authority of India, Association of Unified Telecom Service Providers of India, Reliance Communications, Tata Teleservices, Vodafone Essar Mobile Services, Cellular Operators Association of India, Bharti Airtel, Idea Cellular, BPL Mobile Communications, HFCL Infotel, and Spice Communications -- as to why they should not pay ADC to BSNL.
The Bench also directed that payments, if any, shall be made during the pendency of the petition and the same shall be subject to final outcome of the hearing.
Access deficit charge was a levy paid by private telecom operators to BSNL for meeting the cost of unprofitable operations in rural areas for below the cost wire line and mobile services.
The telecom regulator had abolished ADC in 2008-09. In the two fiscals previous to that, the ADC was reduced. In 2007-08, the regulator had reduced ADC by 37 per cent to Rs 2,000 crore (Rs 20 billion) from Rs 3,200 crore (Rs 32 billion).
Challenging the Telecom Disputes Settlement and Appellate Tribunal's judgement that held that BSNL had no legal right to claim ADC from private telecom operators and Trai had rightly terminated it, BSNL said the entire exercise undertaken by the regulator was not only arbitary and irrational but also contrary to the principles of level-playing field.
Challenging Trai's decision, BSNL contended the arbitrary elimination of ADC had disturbed the level-playing field in a cost-based Interconnect Usage Charge regime, thereby not allowing it to recoup the deficit incurred for providing below-cost wireline services and rural telephony.
The PSU said as IUC was cost-based, why it was being paid 23 paise for termination charges as against the statutorily fixed rate of 30 paise, thus depriving it of 7 paise.
"Trai had no authority or jurisdiction to deplete this huge sum of Rs 1500 crore (Rs 15 billion) -- in every succeeding year -- from the requisite amount of ADC payable to BSNL under IUC Regulations," the petition stated.
Solicitor general Gopal Subramanium, appearing for BSNL, said Trai had disregarded the PSU's submissions for an effective recouping mechanism for the requisite actual deficit for below cost services in accordance with the recognised principles.
According to the petition, the private operators had never made any investments for providing telephony in villages and remote areas despite having specific obligations under their licences.
"They have failed to provide the mandatory village telephones etc as specific licence obligations and remained to operate only in lucrative urban areas," it said.
TDSAT, while holding that BSNL had no legal right to ADC, said "ADC has rightly been designed as a depleting regime rightly terminated in the year 2008-09 and the manner of calculating ADC each year was fair and reasonable, given the facts available with Trai."
The Tribunal said BSNL did not have any reliable data over the quantum of loss suffered by it for its rural operations.
TDSAT had also rejected BSNL's allegation over fixation of uniform termination charges for all wireline and wireless services.
Besides, it said BSNL had failed to furnish any document, in its all three petitions, that the cost of mobile termination was actually one third of the cost of fixed lines services.
"We do not find any basis to support the contention of BSNL that the mobile termination charges have been wrongly fixed," the Tribunal said.