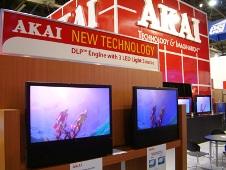 Japanese consumer durables player Akai is gearing to re-enter the Indian market by January next year, with focus on catering the metros and Tier I cities by offering more high-end products and has tied up with Global Brands Enterprise Solutions for revamping of the brand.
The company has entered into a brand licensing agreement with Global Brands Enterprise Solutions, a firm promoted by Chinese white goods player Haier's former India head Pranay Dhabhai.
"We have entered into a long term agreement with Akai. We are working on developing new product line as well as revamping the touch and feel of the brand. The brand will be relaunched in India by December-January," Dhabhai said.
He said Akai's product have been out of the market since September this year after the Japanese firm ended its brand licensing agreement with homegrown consumer durable major Videocon the same month.
Dhabhai said the company is looking at taking the brand to a newer height by bringing more high-end products as part of its focus to capture Tier I cities.
"Akai products have been doing well in the Tier II and Tier III cities. Our focus still remains in these cities.
"However, we will now also focus on generating revenues from the Tier I cities as well," he said.
The company will initially introduce consumer appliances like washing machines, micro waves, refrigerators, air conditioners and LCDs in the first six months. It will later introduce other verticals, he added.
"We want to provide a complete range across the spectrum from low-end to high-end segment. Though high-end products, like LCDs have been there, probably there have not been many or we need to expand our distribution channel," Dhabhai said.
He said the brand had a sales of over Rs 300 crore (Rs 3 billion) in the 12-month ended September and hopes to maintain it in the first year of its operation.
"It is too early to talk about target right now. At present we would like to consolidate and establish the brand in the market," he said.
Akai was founded in Japan in 1929 and has been in India since last 15 years.