November 04, 2009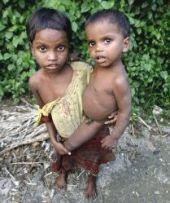 Over 300 million children in South Asia, almost half the total number, suffer from chronic levels of poverty, a latest UN report has found.
Unlike any other region in the world, because of 'persistent and deep inequalities' in South Asia, children in the region are trapped in an unrelenting cycle of discrimination at several levels, United Nations Children's Fund regional director for South Asia Daniel Toole said.
"We now have a better understanding of the real depth of how poverty affects children -- not just as a side effect of their parents' income but their own profound deprivation."
This included poor nutrition, health and sanitation and being excluded from education. Unicef is proposing a shift in the definition of poverty from being income specific to factors of deprivation and well-being, which can lead to more comprehensive policy responses, Toole said.
To combat the enormous amount of poverty afflicting children, Unicef has urged leaders across the region to strengthen efforts in tackling the lack of food, education, health, information, shelter, water and sanitation for the young.
The UN agency is calling for more investment and scaling-up of programmes on nutrition, education, hygiene, sanitation, water, maternal health initiatives and basic health services.
"Investing in children is both a fundamental responsibility and an opportunity that, if not grabbed now, will tarnish a nation's growth," Toole said.
"This is a responsibility because poverty and under-nutrition damages a child's chance to thrive and also hampers the potential of countries to develop," he added.
The UN has also found that over the past decade, child poverty rates in South Asia have stagnated or even worsened in some areas.
Image: Children of tea workers wait for food at a closed tea garden in Jalpaiguri. | Photograph: Rupak De Chowdhuri/Reuters