March 12, 2009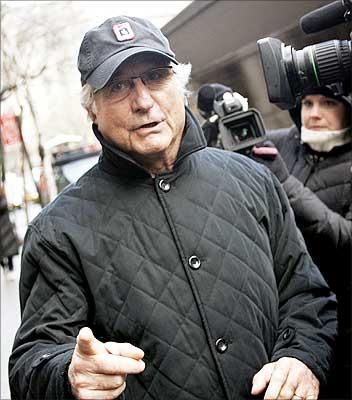 Bernard 'Bernie' Madoff has pleaded guilty to all the eleven charges against him in what is seen as the largest scam in the history of Wall Street. When sentenced, he faces up to 150 years in prison.
In a New York courtroom, Judge Denny Chin asked Madoff: "How do you plead?" Madoff replied, "Guilty."
Victims of Madoff's Ponzi scheme, which drew in as much as $65 billion over two decades before the 2008 market meltdown, had been invited to speak when the former Nasdaq stock market chairman admitted to 11 criminal charges.
The gray-haired 70-year-old Madoff, looking grim in a gray suit, walked into the Manhattan federal courthouse at 7:19 a.m. EDT after being escorted past dozens of photographers and TV crews in the early morning light.
Madoff is accused of running an unprecedented global financial fraud. He is charged with securities fraud, investment adviser fraud, mail fraud, wire fraud, three counts of money laundering, false statements, perjury, false filings with the U.S. Securities and Exchange Commission and theft from an employee benefit plan.
The scam quickly turned the 70-year-old Madoff into one of the most vilified men in the world as thousands of investors came forward to say they were defrauded.
His investors included hedge funds, banks, Jewish charities, the wealthy and small individual investors in North and South America and Europe.
Legal experts say the probe might turn to others, including Madoff's brother Peter, and his sons Mark and Andrew, all of whom worked closely with the disgraced investment manager.
Madoff's wife Ruth is about to get her own lawyer, having previously relied on Sorkin. -- Agencies
Image: Bernard Madoff walks to his apartment in New York.| Photograph: Shannon Stapleton//Reuters