March 05, 2009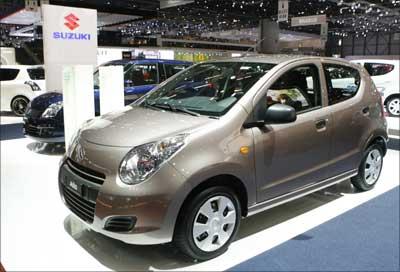 Japanese car giant Suzuki launched its fifth global small car Alto at the Geneva Motor Show on Wednesday. The car will be imported from its manufacturing base in India.
"After unveiling the Alto at last year's Paris Motor Show, we are putting it on the market this spring. It's the most eco-friendly and economical petrol-engine car we have ever created," Suzuki Motor Corp board member and senior managing executive officer (global marketing) Toshihiro Suzuki said at the 79th Geneva Motor Show.
The company did not use costly technologies such as hybrid powertrain in the Alto to offer it at an affordable price, he added.
Suzuki, however, did not disclose details about the pricing of the car in the European market.
The car is exclusively manufactured at the production plant of Suzuki's Indian subsidiary, Maruti Suzuki India, at Manesar and sold in the country as A-Star. The price of the car in the Indian market starts from Rs 345,000 (over $6,500).
Alto has been launched with an aim of making India a small car export hub by Suzuki. It had earlier set an export target of 200,000 units from the country by 2010-11.
Image: The new Alto 1.0 GL AC Automat car by Suzuki is pictured during the second media day of the 79th Geneva Car Show at the Palexpo in Geneva. | Photograph: Denis Balibouse/Reuters
Text: PTI