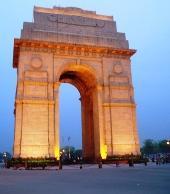 New Delhi has overtaken Mumbai to become the largest e-commerce hub of the country, a report by online shopping firm Ebay has said.
The company, which unveiled on Wednesday its Ebay India census guide, said the country has over 2,471 e-commerce hubs and states like Andhra Pradesh, Tamil Nadu, Maharashtra and Gujarat are most active when it comes to online trading.
"Interestingly, Delhi turned out to be the most active e-commerce hub in the country, going ahead of Mumbai. Besides, smaller cities like Jaipur, Pune and Chandigarh have featured in the top 10," eBay country manager Ambareesh Murty told reporters in New Delhi.
Last year, Mumbai had topped the list of e-commerce hubs in the country, he said.
He attributed the growth of online trading in the city to increasing entrepreneurial activities as well as interest in varied categories, including from books to car accessories among traders and shoppers.
Besides, the report, which highlighted trends in online trading between the period January 2008 till June 2009, observed that the quantum of activity has also increased in smaller cities and rural areas as well.
The annual report said that technology products like camera, television are the most preferred items by online shoppers, accounting about 44 per cent of all the transactions on eBay in India. In terms of export, lifestyle products account the highest, contributing about 64 per cent of all transactions.