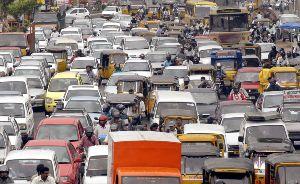 Delhi has more cars than the total number in Maharashtra, Tamil Nadu, Gujarat and West Bengal. In fact, over 17 per cent of the private cars in India run in the national capital alone, says a government report.
Hence, the vehicular emission load is likely to rise in the near future as the Union government's environment report predicts the 'vehicle stock in Delhi is expected to almost quadruple by the year 2020.'
The increase in private vehicles is being attributed to poor public transport system in the national capital, asper the report 'State of Environment of India 2009', released recently by environment minister Jairam Ramesh.
It points out the state government has failed to do sufficient to give impetus to public transport system, despite starting Metro rail service and taking steps to introduce Bus Rapid Transit system.
"Following the trend of Delhi's urbanisation and the lack of appropriate mass transport system, people buying more vehicles for personal use have perpetuated an increase in vehicles," the findings say.
The number of registered vehicles in the national capital has increased 51 times in the past 30 years, says the report prepared by an NGO, Development Alternatives, on behalf of the environment ministry.
Total vehicle population in the country is more than 85 million (about one per cent share of the world) contributing to the already existent amount of vehicular emissions.
The report says during the last few years, a decreasing trend has been observed in nitrogen dioxide levels because of various measures taken for vehicular pollution control, however, Delhi observed an increasing trend especially after the introduction of CNG.
"During 2007, the highest concentration of NO2 among all residential areas was observed at Town Hall, in Delhi and from the industrial areas at Bandhaghat in Howrah," it adds.