Home > India > Business > Interviews


Discuss |
Email |
Print | Get latest news on your desktop


The Rediff Interview/Prof. Bala V Balachandran

'Indian B-school students can beat MIT-ians'

September 23, 2008



Prof Bala V Balachandran, former chairman of Kellogg School of Business Management, is currently spending bulk time in Chennai as the founder and honorary dean of the Great Lakes Institute of Management.

In 1967, Balachandran went to the US and was with the University of Dayton.

In 1971, he moved to the Carnegie-Mellon University, Pittsburgh, where he taught management courses and also worked on his doctorate.

In 1973, he joined the Kellogg School of Management and was with the institute for 34 years before retiring recently.

In an exclusive interview to Shobha Warrier, Prof. Balachandran spoke about his association with MDI, Gurgaon, Indian School of Business and his plans as the dean of the Great Lakes Institute of Management.

Read on. . .

How did you get involved with the inception of ISB in Hyderabad and then Great Lakes in Chennai?

My association with Indian management schools goes back to the 60s and 70s. I was a visiting faculty at the Indian Institute of Management, Ahmedabad, when it was taking shape under the leadership of Ravi Mathai.

In 1991, I was the chairman to the Strategy Planning Committee of Kellogg.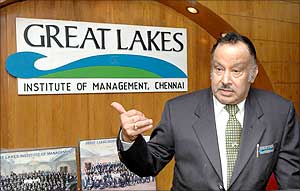 Its rank then hovered between 9 and 11. Our goal was to attain the top position. As I planned to find out what it takes to reach the summit, I gained tremendous experience. And soon we became number one.
I started serving as a consultant to Dr Manmohan Singh when he was the finance minister.


In October 1991, we were ready to train 25 faculty members of MDI, Gurgaon, on how to teach experienced hands at PSUs. Between 1991 and 1996, I brought the entire faculty of MDI in batches for three months to Kellogg.
That was when my involvement with India reached the highest level.
Rajat Gupta of McKinsey and I shared close ties. He came with the idea of setting up a business school in India.

We created a committee comprising Indian industrialists like Anil Ambani, Jamshed Godrej [Get Quote], etcetera.
I was in charge of recruiting the dean and the faculty (in fact the first eight faculty members were recruited by me at Kellogg) and I also designed a curriculum for ISB.

Then, I inducted a friend of mine named Jitendra Singh from Wharton. 
 
Later, London School of Business also became a partner of ISB.
I became the chairman of the dean search committee and faculty recruiting committee. I also taught at ISB from 2001 to 2004. Pramath Sinha became the institute's first full-time dean.
Why did you choose Hyderabad for ISB?
Mumbai was our first choice, followed by Delhi, Chennai and Hyderabad. But then Chief Minister of Andhra Pradesh Chandrababu Naidu took so much interest in the project that he came to the airport to welcome us (Rajat Gupta, Anil Ambani, Jamshed Godrej and me)!

He gave us a 200-acre plot and a single-window access for all clearances. That was how Hyderabad became the seat of ISB.
What motivated you to start your own business school, Great Lakes, in Chennai?
After we set up ISB, J Jayalalitha, then chief minister of Tamil Nadu, and industrialists N Shankar, Lakshmanan (Rane group) and Srinivasan (India Cements [Get Quote]) wanted me to start a business school in Chennai as I hailed from that place.
That is how Great Lakes came into being.  I thereafter cut myself off from the ISB and started working on my new project. Rajat was not happy with my decision.

I told him my first child is MDI, Gurgaon, ISB my second and Great Lakes, the third. C K Prahlad, Raghuram Rajan, myself and some faculty from Toronto, Cleveland, etc, are on the shores of Great Lakes. We decided to start the school in a rented building before constructing our own.
Has it not taken you long to have your own building?
Not at all. This is only the fourth year of Great Lakes. It took ISB 7 years to have its own building. Even IIM Ahmedabad didn't have a campus for 10 years. 

At Great Lakes, in the first year itself, we had 100 per cent placement -- a unique achievement so far. 

It is often said that ISB has stolen a march over Great Lakes.
That is not true. The first batch of ISB came out in 2001. The plan started in 1997. Great Lakes started in 2004 and in 2009 January, our campus will be ready on the ECR in Chennai.
How can anybody compare ISB with Great Lakes? How can you compare a 14-year-old kid with a 4-year-old baby?


As for me, I don't like any comparison. For, both are my children. How can I say one child is better than the other?
What are your plans for Great Lakes?
The building is getting ready.


The campus is one of its kind in the world. It got platinum rating for its energy-efficient and eco- friendly design.

Even though we oveshot the budget by Rs 4-5 crore (Rs 40-50 million) while building, we decided to go for an eco-friendly campus at any cost.

Right now, we have a PGPM course and a two-year executive MBA programmes at the institute. We have customised executive education for the Murugappa group, India Cements etc.

We have generic executive programme as welll for marketing and sales, mergers and acquisition, financial delivery, etc.
We have 164 full time students and 35-40 students for executive MBA programmes at the moment. Other executive programmes have 25-40 students.


When we shift to the new campus, we will have four sections of 65 students. We will have 260 full-time students.   
How different is Great Lakes campus going to be other than being energy-efficient?
My style is Gurukulam where the faculty and the students live together. The two should get a chance to mingle outside the classroom as well.

At Great Lakes, not only faculty but guest faculty and visitors are to have quarters too. Even alumni will be allowed to stay and take classes. It will be like one big family.

That is why there I am called uncle Bala and not dean Bala or Prof. Bala!
Do you feel there is a disconnect between industry and academia in India?
Yes, in general, there is a disconnect. But now, IIMs and IITs are in for change. In 5 to 10 years, the change will be all- pervading.
In what way are you ushering in change at Great Lakes?
We are for business-relevant academics at Great Lakes. Right from the beginning, our core competence will be the merging of the two.


I will use the words academic elegance and business relevance in this respect. That is why Ratan Tata is our chairman; he is our role model.

He comes and interacts with the students. Other corporate giants too are in constant touch with the students.
For example, Venu Srinivasan gives a lecture here on total quality management. At least six professionals, who are business leaders, teach at Great Lakes.

Then we have former bureaucrats taking time out to teach. T N Seshan (former chief election commissioner) is a full time faculty here teaching business, society and government along with N Vittal (former central vigilance commissioner) and Dr V S Arunachalam.
At our institute, HR groups of various industry houses comprise a part of the admission process. 

Where do Indian management institutes stand in the global scene?
We have a long way to go.


Management schools in India get the best students. They are good enough to get admission in the best business schools in the world.

Students of IIM Ahmedabad can go to MIT, Harvard, Kellogg and Stanford and can beat any student there. That brilliant they are.
But is the faculty in the schools good enough? I don't think so. The faculty is paid less. And if you pay peanuts, you will only get monkeys. 

One cannot blame the faculty. Their salaries are poor and there is no incentive to do research. Quality research and publishing papers are extremely important to develop a good faculty.
What factors can make a management institute in India at par with the best in the world?
Three factors can make it the best: best students, best faculty and a quality curriculum.

In my opinion, all the IIMs, XLRIs, SP Jain institutes etc have the potential to be the best institutes. However, except for ISB and Great Lakes, no other institute is of the global standard.
What makes a good manager?
A good manager has to understand that change is inevitable. You have to keep a constant vigil on how the world is changing and be prepared to reinvent yourself consistently.

It is generally said that the money offered to fresh management graduate is obscene. Do you feel so?
Nothing is obscene. If you don't pay them, somebody else will from some other country. Why do you want to lose them when they are trained here with Indian money by an Indian professor on Indian soil? 
Where do you see Great Lakes in five years?
I will spend more time here as the honorary dean -- at least five months  a year -- and the rest of the time in the US.
I want to initiate an MBA programme here exclusively on energy management along with the University of Houston because they have the best business school for energy management.


I also want to introduce an MBA course in agriculture management with, say, the University of Illinois.
I want to see Great Lakes among top five business institutes in India in the next three years. In the next seven years, it should be among the top 20 in the world.

Image: Prof. Bala V Balachandran | Photograph: Sreeram Selveraj
More Interviews
Email |
Print | Get latest news on your desktop