September 05, 2008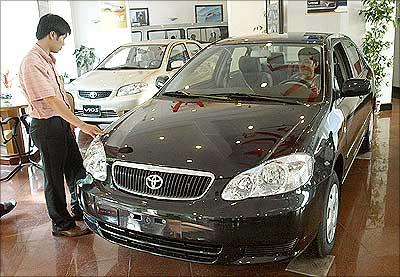 Aiming to achieve a 10 per cent market share in the Indian passenger car market, Japanese auto major Toyota on Friday launched an advanced version of its sedan, Corolla Altis, priced between Rs 10.83 lakh (Rs 1.08 million) and Rs 12.86 lakh or Rs 1.28 million (ex-showroom, Delhi).
The new car would come with a 1.8 litre petrol engine in three different grades.
"This year's target is to sell 63,000 vehicles, and by fiscal 2015 we are aiming for a market share of about 10 per cent. The Altis marks our big step toward the achievement of this goal," Toyota Kirloskar Motor (TKM) vice-chairman Vikram Kirloskar said.
The company, which sold about 50,000 units last year, currently enjoys around three per cent of the Indian passenger car market.
It also plans to introduce several new models in the near future to meet its target, he added.
TKM plans to sell an average of 2,000 Corolla Altis a month.
The company earlier had announced an investment of Rs 1,400 crore (Rs 14 billion) in setting up its second manufacturing facility in Bangalore to launch a strategic small car for the Indian market within the next two years.
"Regarding the small car that everyone has been waiting for, we aim to start production and sales around 2010 or early 2011," Kirloskar said.
Image: Customers inspect a locally assembled Toyota's Altis at a showroom in Hanoi. 

Photograph: Hoang Dinh Nam/AFP/Getty Images
Text: PTI