Home > India > Business > Pix

Mumbai sees 60% rise in I-T collection

March 28, 2008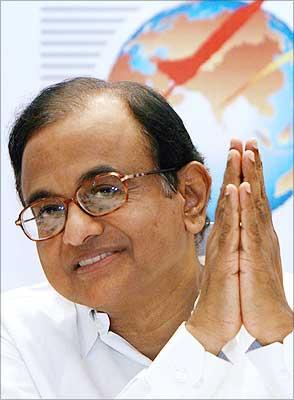 Buoyed by a 60 per cent growth in income tax collection in Mumbai, Finance Minister P Chidambaram on Friday said he expected the country's financial capital to do even better in the next fiscal.
"Income tax collection is doing better than the budget estimates. Mumbai has shown a growth of over 60 per cent in tax collection. I hope Mumbai will do even better in the coming fiscal," he said, inaugurating the Large Tax Payer Unit (LTU) in Mumbai.
The LTU provides a taxpayer friendly and service-oriented environment of tax administration in the country.
Mumbai is the third city to have an LTU after Bangalore and Chennai. Delhi and Kolkata would be the next centres to have LTUs which provide single-window to corporate to pay all central taxes.
Chidambaram said that Mumbai, which accounts for nearly a third of the country's direct tax collections, has the potential for at least 150 large tax payers to join the LTU. Eighteen such tax payers have so far signed up for the scheme.
He said India had the most cost-effective tax administration regime as the cost of collection of tax was 60 paise per Rs 100, which is the lowest in the world. In case of LTUs, the cost of collection will fall dramatically to 4.5 paise per Rs 100, he said.
Chidambaram also said that the Delhi LTU would be opened in May whereas the one in Kolkata, by the latter part of this year. The LTU is a self-contained single window unit administering both direct and indirect taxes in respect of large business enterprises.

All those assessees who have paid Rs 10 crore (Rs 100 million) or more as advance income tax or Rs 5 crore (Rs 50 million) or more either as excise duty or service tax are eligible to join the LTU. The scheme is, however, optional. Chidambaram expressed confidence that the direct tax collections during 2007-08 would even surpass the revised estimates of Rs 3,04,445 crore (Rs 3044.45 billion), by a few thousand crores.
Tax revenues have shown an over 40 per cent higher collections during the current financial year, following increased tax compliance, he said. The target for the financial year 2008-09 has been fixed at Rs 3,65,000 crore (Rs 3650 billion) or Rs 1,000 crore (Rs 10 billion) collection per day. -- PTI
Image: Finance Minister P Chidambaram. Photograph: Tauseef Mustafa/AFP/Getty Images