March 05, 2008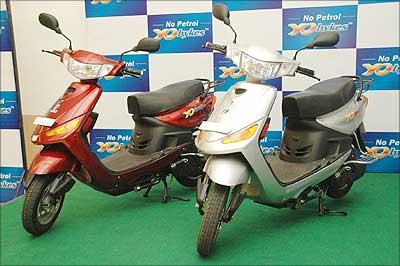 Indus Elec-Trans of Ahmedabad unveiled YOSpeed electric scooters in Chennai on Wednesday. The new product, priced at Rs 36,650, boasts of a motor rated at 750 watts and a top speed of 45 km per hour.
Indus has been in the market with their YO bikes for some time. The bikes had been restricted to a top speed of 25 km per hour till the advent of YOSpeed.
With a rated payload of 135 kg, the YOSpeed can carry a rider with pillion. The 3X10 tyres are also now of the standard used in light scooters.
Indus promises that the battery and motor are waterproof and can be used in rains.
It is targeted at the middle class with its promise of lower running costs. The running costs (including the amortisation of the cost of battery) are claimed to be about 50 paise a km given electricity cost of Rs 4 per unit. The battery is rated good for 20,000 km. This would be about twice as cheap as running a petrol scooter.
Indus has tried to make the YOSpeed styling acceptable to teenage girls by using bright colours, and making it look akin to other petrol-powered scooters.
Of course, one needs to have access to a normal household power outlet near where one parks the bike, so that its battery can be charged. It takes six to eight hours for a full charge. Those living in the upper floors of apartment buildings would need to lug the heavy batteries up to their flats. However, handles are provided.
While the lower end of its earlier models were motorised pedal cycles that reminded one of the 20cc motor-powered bicycles used 50 years ago, the YOSpeed does not let one pedal. It also needs registration with the RTO, unlike the smaller models that needed neither registration nor a licence for its rider.
Photograph: Sreeram Selvaraj