Home > India > Business > Special


How to keep recovery agents at bay

Bindisha Sarang, Outlook Money | June 12, 2008



It's 2 a.m. There's a ring on the phone, a sound you've learnt to dread. It's the recovery agent, again.

Unless you have been at the receiving end, it's tough to imagine how stressful a single phone call can be. "It was the worst experience of my life," says BPO employee Sinith Mechery, 25. "Due to some unavoidable circumstances I defaulted on a few loan repayments," he says.

A recovery agent began calling him and rudely demanded that he make an immediate payment. Mechery just hung up on him. "But he called at least 35-40 times that day and his language was abusive. I'd never had an issue with my banks prior to this, but this incident has definitely left a bad taste in my mouth," he says.

Mechery is lucky. In a case that shocked the nation, ICICI Bank [Get Quote] customer and Mumbai resident Prakash Sarvankar, 38, who had taken a Rs 50,000 personal loan, committed suicide last year, holding a recovery agent responsible for his death in his suicide note.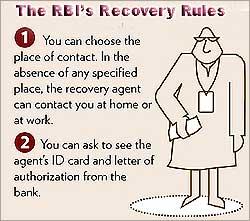 Three sides of the story. The main characters in a recovery story are the borrower, the lender and the recovery agent. While it's easy to sympathise with the harassed individual, banks, too, have reasons for outsourcing debt recovery.
 Says Axis Bank chairman and CEO P J Nayak: "Axis Bank has an in-house collection department; we also employ reputed third-party collection agencies that comply with non-aggressive methods."
An agent's job, in-house or third-party, is to facilitate the process of recovery. If the borrower doesn't want to deal with a recovery agent, he can approach the bank for direct negotiations.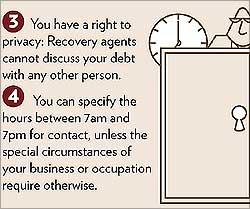 "If there are genuine reasons holding up repayment, we can work with it. For example, credit cards dues can be easily converted to an EMI, which is part payment, instead of the total outstanding due," says Nayak.
Most banks are willing to make adjustments if the reasons for default are genuine. An HDFC Bank [Get Quote] spokesperson says that if there is a real problem, the bank works out things as per its policy.
Recovery agents work on a commission basis and are, therefore, highly motivated to show efficiency.
Arun Saxena, president, International Consumer Rights Protection Council says, "Debt recovery agents often treat borrowers in unacceptable, illegal ways. Customers should be careful about giving any money to agents; payments should be made against a proper receipt. One can even approach the National Human Rights Commission if need be."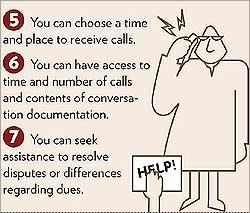 The important thing is to not get intimidated (see Do's and Don'ts.) Help from the top. To protect the interests of both the borrower and the creditor in the debt recovery process, the Reserve Bank of India [Get Quote] has issued guidelines that a recovery agent and the bank that employs him have to honour (see The RBI's Recovery Rules).
Based on these guidelines, earlier this month, the Supreme Court reiterated that banks cannot deploy goons for recovering loans from defaulters.
"The creditors have the right to recover their dues, but there is a right way to so. Laws have to be followed, which is are not necessarily followed by many creditors," says Mumbai-based high court lawyer Rohini Pandit.
The central bank has said it may ban a bank from engaging recovery agents in a particular area, either jurisdictional or functional, for a limited period.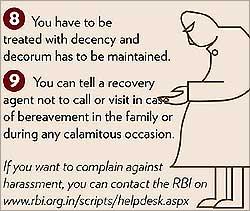 In case of persistent breach of its guidelines, the RBI may extend the period of the ban or the area of ban.
Better safe than sorry. All said and done, a recovery agent will come into the picture only because you slipped up.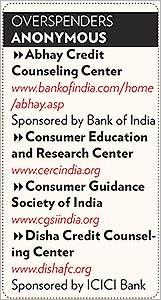 The reasons could be many: overspending, overborrowing, a personal crisis (sickness, loss of employment), or pure bad luck (a loan repayment cheque lost in the post). At the end of the day you need to take responsibility for financial indiscipline.
Lending a helping hand for this are a number of financial counselling centres that offer free service to those caught in the debt trap (see Overspenders Anonymous).
Many banks alert you on payments due via SMS or email. Autopay (or direct debit) is also an easy way to avoid oversight on loan repayment cheques.
Most importantly, of course, never borrow more than you can comfortably repay. It's basic common sense, but it's rapidly becoming uncommon.
Do's

Don'ts

When he extablishes contact, take
down the full name of the recovery agent,
his contact details and the particulars of
the debt he is calling about. Find out if he
is from the bank or a third party agency

Make notes of the conversations, including
details like date, time and place. If
possible record the call.

Inform the agent that you are aware of the
situation and fully intend to pay off the debt.
Indicate that you are ready to work towards
a solution.

Make him aware that you know he's
just doing his job, but do not tolerate threats.
If he does get abusive, inform him calmly that you will report the matter to the police/bank/RBI

If things get out of hnad, ask the agent to stop
calling - you are under no obligation to take his calls.
Further, write to the bank in question and inform
that you do not wish to be contacted
by the recovery agent.

File an FIR, detailing threats and instances, against
the chairman of the company that employed
the agent. Make the agent a party to the FIR, along with all his contact details.

Complain to the bank and to the RBI. The RBI can impose any penalty on a bank for violation of its guidelines.

Don't try to avoid the recovery agent, or the truth
that you do have an obligation to pay up.
Not taking calls, making false claims (such
as pleading relocation) to avoid them won't
make the problem go away and could invite
aggression

Don't sidestep close questioning on employment,
personal circumstances or anything that hinges on
your ability to pay off your loan. Sharing information
indicates you are committed to meeting your
obligations and creates goodwill.

If the agent gets abusive, avoid retaliation in kind.
Never use derogatory language: It will go against
you on your record.

Don't buy time on false grounds. The agent is a
professional, he can distinguish between a genuine
excuse and a fake one. If you need more time
communicate the fact clearly to the agent.

Don't promise to pay just to get the an agent off
your backfor the moment. Promises/commitments
to pay are taken very seriously and failure to keep
them will take your account to the next level.
Phone calls will be followed by personal visits at home or work.

Don't avoid informing the authorities concerned if
the agent crosses limits for the fear of stigma. Keeping authorities in the loop about the situation
can only help you in the long run.
More Specials
Powered by