Advertisement
February 15, 2008


The new breed of India's best innovators is set to take the world by a storm. Young, intelligent, and ambitious, these dynamic entrepreneurs might well conquer the world with their innovative ideas, products and services.

rediff.com brings to you a special series on India's best innovators and entrepreneurs, winners of the latest Nasscom Innovation Award 2007.
---
From being an employee of the Bombay Stock Exchange over a decade ago, to starting Financial Technologies (India) Ltd, a global company that offers solutions for the financial services industry, to building the Multi Commodity Exchange of India (MCX), it has been an incredible journey for Dewang Neralla.
The company Neralla co-founded with Jignesh Shah, chairman and group CEO, Financial Technologies, is today a symbol of the true entrepreneurship spirit of India. It is the biggest player in the online trading automation space with 80 per cent market share.
Neralla, who is passionate about technology, believes that innovation is the key for technological breakthroughs.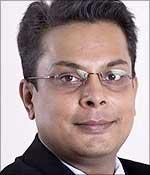 "Our mantra is: 'Innovate or Perish!' Innovation has to be done not just at the product level, but has to go right to the business model level and beyond. The idea is to eke out productivity from every leg in the conveyor cycle," says Neralla.
Neralla was part of the Bombay Stock Exchange team that designed the BSE Online Trading system (BOLT). Neralla and Jignesh Shah were working with the BSE before they set out on an entrepreneurial journey. They saw a huge opportunity in the online trading market and decided to test their fortune in the niche market.
The vision was to build a technology product company for the masses.
Financial Technologies offers technology IP (intellectual property) and domain expertise to create and trade on next generation financial markets -- that are transparent, efficient and liquid -- across all asset classes, including equities, commodities, currency, and bonds.
"Financial Technologies has plans to start many more exchanges and create new technological solutions. The Indian market has always provided opportunities for us to prove our worth," says Neralla.
Multi Commodity Futures Exchange is among the top ten commodity derivatives exchanges in the world. MCX ranks among the top three bullion, energy and copper exchanges in the world, in terms of contracts traded.
Neralla shares the joy of innovating and being in the forefront of the domestic and global trading world in an interview with Assistant Editor Manu A B.
What was the innovation that won you the Nasscom award?
Nasscom (National Association of Software and Services Companies) has chosen us as one of the finalists in the market-facing innovation category for medium and large organisations for our Distributed Order Matching Engine (DOME).
DOME is our flagship exchange product suite that offers an integrated matching engine, including surveillance, risk management, and clearing and settlement, among others which have made it the 'exchange platform of choice' for all new generation markets. It is also a highly scalable solution, which can scale up based on increasing load demands.
How long did it take to develop the award winning product?
It requires great effort and tremendous experience for developing a product like DOME. Our core DNA for the product has been developed and designed since 1995 -- we have been involved in creating exchange, brokerage, and messaging solutions.
In fact, for our matching engine it took us a year and half to develop to make it extremely scalable and to increase performance.
How difficult was the task?
Based on the experience of developing similar solutions and our understanding of the markets, this was not as difficult. However, the challenge was to make it super-scalable knowing completely the vagaries of the market functioning -- as there are times of tremendous load or times of lull.
How do you see the company's role as a technology solutions provider growing in India and abroad?
For the past 13 years, we have been creating solutions for the financial markets alone and we would continue to do so as long as we can. Our solutions have been time tested and have proved to be a success.
The Indian market has always provided opportunities for us to prove our worth. We are looking to reach out to global markets too. We have tasted reasonable success in the Middle East where we have deployed some of our solutions.
What technological changes do you see the trading world?
As markets evolve and become more electronic, there will be more machine interactions than human interventions. We will be able to see an increase in digital and algorithmic trading in global markets. Latencies will be reduced substantially to ensure faster execution with better communication media and faster bandwidth that will in turn lead to further democratisation of markets where everyone will see the price at the same time.
What are the major milestones that you have achieved?
We created and implemented solutions for the financial markets with products like ODIN, a brokerage solution suite which makes trading on multiple markets easier through the use of a single application.
Another product is iWin, India's first wireless Internet mobile dealing desk application that helps stock market participants stay connected with the stock markets on a real-time basis from anywhere and anytime.
We also successfully implemented and promoted the Multi Commodity Exchange making it the No. 1 exchange in India. We started global exchanges like DGCX, and GBOT. We have plans to start many more exchanges and create new technological solutions.
Most people find finance a major constraint to start a venture. How was it for you?
Ours was a self-funded growth initially. Later in 1998, we had venture funding from IDBI. We had not changed the core vision of the company from a technology product company for the masses, irrespective of any constraint. We have used technology as a tool to break all barriers and that has helped us evolve across these years.
How do you like the role of an entrepreneur? Do you think India needs more entrepreneurs?
Great! Of course, the new India has thrown away the old legacy and has been very open about venturing into new areas. You can see this at urban, semi-urban and rural levels where we see many micro entrepreneurs flowering.
Could you explain the reasons for your success?
Domain and technology, perseverance and passion! We live by these principles which only show that we understand what our customers want then and what they need now. This is blended with a superb mix of technology which ensures our products are robust, scalable, and customer friendly.
What would be your advice to budding entrepreneurs in India?
Just do it!
What are your views on innovation in India? How important is innovation for a company?
Our mantra is 'Innovate or Perish!' Innovation has to be done not just at a product level but has to go right to the business model level and beyond. The idea is to eke out productivity from every leg in the conveyor cycle.
Indian companies focus more on services than products. How important is a product-based innovation?
Product-based innovation generates intellectual property (IP) which is the core for any creation. Product-based innovation is an extremely critical function. You could have services which are one level up on the value chain beyond products. With product-based innovation, IP is created for those within the company rather than creating IP for various other people.
What are your views on the Indian IT sector?
The amount of talent and employment opportunities that have been created is phenomenal. We need to use the same base to create more opportunities for people across India.
A Ramanujan, who did not know a word of English, became a brilliant mathematician renowned globally. Likewise, we can hope to see a whole new India not only coming from urban areas but also from other areas to overcome all hurdles and scale new heights in the technology frontier!
What are your company's future plans?
We have consistently focussed on our core strengths of creating technologies and creating businesses around technology. We would continue for scout for such opportunities.
What is your staff strength now? Do you plan to hire more people?
Currently, we have 916 employees working with FT. Yes, there are plans of increasing that number.
Could you tell us about your interests? How do you spend your spare time?
Playing cricket with my son!
More Interviews