Home > India > Business > Special


Discuss |
Email |
Print | Get latest news on your desktop


Bear markets? Ulips are still a good bet

Sunil Dhawan, Outlook Money | August 13, 2008



For holders of unit-linked insurance plans, the current market conditions do not matter much. The markets have fallen considerably from the highs of January this year, and the possibility of a long-term, sustained recovery is largely seen in the context of three factors - oil price, the Indian growth story and the US economy.

A common thread going through these factors is that their impact can be measured only over a period of time. Ulips are bundled investment products designed to boost long-term savings more than short-to-medium duration ones. The benefit is reflected in low costs if the savings are over a long period of time.

Should the weakening stockmarket worry investors who take the Ulip route to equities? The product is best for generating wealth over periods not less than 10 years. There is also enough evidence to show that equity outperforms other assets and can give annualised returns of 15-20 per cent over the long term.

Existing holders. If you are holding Ulips with full exposure to equity, stay invested that way till maturity is around five years away. Ulips allow investors to switch their corpus to non-equity options like debt or balanced funds. If the fund value has eroded over the last six months or so, stick to the equity option.

If you have been putting premiums in the debt fund option, now is the time to move into equity. You can do this in two ways - by moving the entire corpus in one go or by transferring smaller amounts at regular intervals.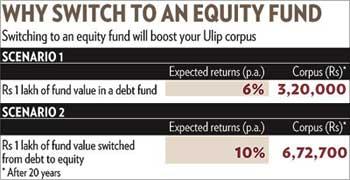 New buyers. Invest in a Ulip for the right reasons. Weak or strong market conditions should never be the cue for starting savings in any asset class or financial product. The equity fund option is the best option, so go for a fund that takes 100 per cent exposure to stocks.
The other way to go about it is to put the premium in a debt or a balanced fund and then switch to equity when you feel that the market is strengthening. The problem with this is that you will have to time the market, which you should ideally avoid.
Switching options. Insurers provide a specified number of free switches among fund options in a year. These can be done both offline and online.
What to do. Shift gains from equity funds of more than 20 per cent in any year to debt or balanced funds. Markets move in cycles and there could be three or four opportunities of extraordinary returns in a 15-20-year holding period.
While restructuring fund options, ensure that optimum balance is maintained between returns and life coverage. If you lower the sum assured to maximise returns, your life cover may fall below your requirements. Finally, uncertain market conditions, as are being seen now, should never be the reason for a full exit from Ulips. Costs in most Ulips are front-loaded and, hence, it is important to make them run their full course.
More Specials
Powered by

Email |
Print | Get latest news on your desktop