Home > India > Business > Pix

Outsourcing takes the pain out of visa processing

George Joseph in New York | April 11, 2008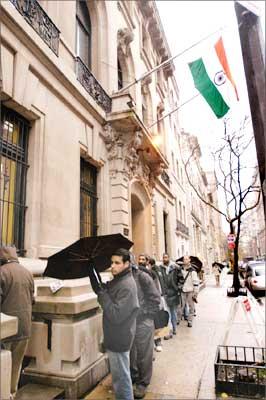 Not so long ago, getting a visa from the Indian consulates across the country was a nightmare; now, applicants are all smiles thanks to the smooth functioning of the method of outsourcing such requests.

Thomas Mathew went to the Travisa Outsourcing Center in New York expecting the same treatment as he had received at the consulate earlier. "But things have changed. There was no long queue especially outside of the building. Services were prompt and employees were more helpful," he said.

"The system works well in all the five centres. We had some problems for a few weeks when we started the new system last October. But things have smoothened out and customers are happy with our services," Jan Dvorak, CEO of Travisa Outsourcing told India Abroad.

Since October 2007, when the new system was put in place, Travisa has issued over 150,000 visas across the US; in peak season, the company was issuing over 44,000 visas a month.

The government of India had decided to outsource visa services because of the sheer volume of applications received in the consulates. "Travisa Outsourcing was given just 38 days to develop a new and entirely outsourced visa application process throughout the United States, and in doing so we created new technology that is revolutionising the visa application process," Dvorak said.

By year end, the company expects to have processed over 400,000 visas for travel to India -- which means not only faster turnaround times for travellers, but also frees up consulate staff to focus on the important aspects of security and other areas of the visa process, he noted.

Currently, Travisa Outsourcing is the only US firm that handles visa outsourcing for an entire country.

New York continues to get the largest volume of applications, followed by San Francisco. Currently, some 30 per cent of all applications are received through mail, which Dvorak said is a safe and convenient method. In San Francisco particularly, more people apply through mail than directly at the consulate.

"Sending passport and records through the Fedex is very safe. We have not received any complaint of missing passports so far," Dvorak said.

Once they took over the process the company, which employs over 100 persons in their various centres, made many systemic changes -- chief among them being the setting up of systems to enable prospective travellers to submit their visa applications online.

Anybody who wants to apply for an Indian visa has to fill up the application online, and pay the fees, which includes an additional $13 for Travisa's services, with a credit or debit card. The completed application then has to be printed out and taken to the Travisa office nearest to them, with the passport and other relevant records.

"We do not allow people to stand outside. During peak season, we open the office early so that people can get inside rather than stand outside. Moreover, our neighbours too do not like the queue on the street," Beverly Parker, manager of the New York office, said.

Once the applicant enters, a receptionist checks the documents and passes you on to the counters, where the documents are checked and compared against the online application.

If everything is found in order, the electronic application is forwarded, along with all relevant documents, to the consulate for visa stamping.

At around 4 pm of the same day, the applicant can return and collect the visa-stamped passport. India is now one of only two countries that issues same day visas; China is the other, Dvorak said.

People who cannot, due to language problems or for any other reason, fill up the application online will get help to do at the centre. "We have set up eight computers and special staff for this," Parker, who has a staff of 20 in her office, said.

Travisa has taken care to ensure that most staffers speak at least one Indian language.

Another major improvement is a tracking system on the lines of the one employed by Fedex. "Once you mail the application, you can check the status of it online. When it reaches the centre, when it was gone to the consulate, and when it was sent back, etc. Many people get the visa stamped passports in 3-4 days time," Dvorak said.

"We have developed proprietary technology that enables customers to track the status of a visa application online in real time. Similar to the process for tracking a FedEx package, visa applicants can now have the peace of mind of knowing where their visa is in processing."

The government of India hired Dvorak who, in turn launched the new company -- Travisa Outsourcing -- dedicated entirely to visa outsourcing. With the success of the Indian initiative, Dvorak finds himself at the forefront of an emerging business opportunity.

Dvorak, an industry leader with over 26 years of experience in the travel industry and in visa and passport processing, came over to the US in 1978. After working in sundry odd jobs, he joined a travel agency and realised that travellers need more support and guidance in navigating the often complicated and time consuming process of applying for visas and passports.

In 1981, Dvorak launched Travisa Visa Services, which provides corporations and individual travellers with assistance in applying for visas and passports.  Today, Travisa Visa Services has offices throughout the United States, and served as the foundation for the launch of Travisa Outsourcing.  

India is the first nation to outsource visa processing in the US, he noted, pointing out that other nations are following the success of the experiment very closely. "We are in talks with other countries for possible outsourcing," he said.

It is now off season, hence people can come in with their applications and leave within 15 minutes with all formalities completed. Parker said the NY office is capable of servicing 700 people a day during the peak months in November-December and April-May. During off-peak season, about 200 people come daily for visas.

The consulate still handles emergency applications, but increasingly prefers to route almost all applications through the Travisa centres. Parker, who was earlier employed by TWA Airlines, said that after some problems during the programme's teething phase, there have been no complaints -- in fact, the offices get messages from satisfied travellers, appreciating the service.

Carrying customer-friendliness to a logical extreme, Travisa ensures that anyone who calls by phone or writes an email is assured of a reply -- a stark contrast to the earlier situation, when harried consular staff was unresponsive, leading to frequent complaints.

Consulate officials are pleased with the success of the project. PS Sasikumar, consul in charge of visa services in New York, noted that outsourcing has solved many problems faced by the consulate. "Now we are serving the people much faster, " he said.

"Travisa will make sure that all documents are in place. We will scrutinise and issue the visa, if there is no problem."

Workloads at the various consulates have not reduced, however, he points out. "We were always working with fewer staff than needed," he said, ruling out a reduction in the workforce.

Another benefit of the new system is that it has solved the space crunch at various Indian consulates. Earlier, all available space was taken up by milling travellers with their applications.

"Now, two thirds of the crowd is gone from the consulate, and we have been able to reallocate that space more effectively," Sasikumar said.

"After a few hiccups in the initial weeks, the process is working well and the feedback from the public has been great.  Teething problems are inevitable when something of this nature and magnitude is handled.  The best part of it is that things are settled down.  It has stabilised," embassy officials noted.

"The Consulate continues to deal with emergency visa applications every day, so there is never going to be a situation when an applicant who needs to go to India for whatever reason will have a problem.  The consulate has also worked out a mechanism with the outsourcing company to retrieve the passports which are with them, in the event of emergency, during weekends and on holidays," Sasikumar said, adding that work is in progress to further streamline the already excellent system.

The New York consulate issued a total of 105,583 visas in 2007 as against 101,452 in 2006. Across the US, that number was 300,000 for 2007, and that figure is expected to go up to 400,000 this year. "Just as the importance of India is going up, the demand for visas is also going up," Parker noted, pointing to the increase in tourist and business traffic.

"We are very satisfied with the visa outsourcing project. Services to the public are being handled in a very efficient and expeditious way.  While initially there were some complaints, these have since petered out," Rahul Chhabra, Minister, Press, Information and Culture, at the Embassy of India, said.

He said from October 1, 2007 till February 29, 2008, 181,992 visas have been issued, out of which 168,676 were to US citizens and 13,316 to non-US citizens.

About 134,178 visa seekers belonged to the tourist category, 36,563 to the business category and 11,261 belonged to assorted other categories.

"Improving the process of the issue of visas and other consular services is a continuing endeavor," Chhabra said. "We are always examining new ideas and solutions. An example is the greater degree of computerisation in consular work."

(Above) The Indian Consulate in New York. Photograph: Paresh Gandhi