Home > Money > Pix

Mittal pays Rs 500 cr for Bhatinda refinery pie

July 25, 2007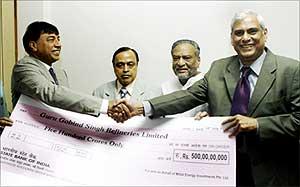 Steel baron Lakshmi N Mittal made a payment of Rs 500 crore (Rs 5 billion) on Wednesday as the first instalment for picking up 49 per cent stake in HPCL's [Get Quote] Rs 18,919 crore (Rs 189.19 billion) Bhatinda refinery.
Mittal Investments Chairman L N Mittal handed over a cheque of Rs 500 crore to HPCL Chairman and Managing Director Arun Balakrishnan in New Delhi on Wednesday.
Mittal has picked up 49 per cent in Bhatinda Refinery, the same as Hindustan Petroleum. The balance two per cent stake is with financial institutions.
Mittal Energy Investments Pte Ltd, a subsidiary of Mittal Investments, has parked $110 million in an escrow account as guarantee for its 49 per cent stake in the nine million tons Bhatinda refinery project.
The project is being financed in 1.5:1 debt-equity ratio. Total equity investment by Mittal and HPCL would be Rs 3,577.50 crore (Rs 35.77 billion) each.
Mittal's investment in Bhatinda is the single largest foreign direct investment in the refining sector and his coming on board has helped the project take off, Petroleum Minister Murli Deora had said earlier.
Orissa, Jharkhand projects: Mittal said on Wednesday he has got assurance from the government of India for allocation of iron ore mines for his steel plants in Orissa and Jharkhand, but did not say when the project will commence. He plans two 10 million tonnes steel plants in Jharkhand and Orissa.
Mittal said he is meeting Orissa and Jharkhand chief ministers and is expecting full support from them in allocation of iron ore mines for the steel plants, coal mines for setting up captive power plant and land for the projects.

"We are 100 per cent committed to the two projects," Mittal told reporters.

Asked when the projects are expected to be completed he said, "I don't know that". (PTI)


Caption: Mittal Investments Chairman Lakshmi N Mittal (left) hands over a symbolic cheque of Rs 500 crore ($2,407,298.00) to Chairman and Managing Director of Hindustan Petroleum Corporation Limited Arun Balakrishnan (right) as the Indian Minister for Petroleum and Natural Gas Murali Deora (second from left) and Minister of State in the Ministry of Petroleum and Natural Gas Dinsha J Patel (second from right) looks on, during a meeting in New Delhi on Wednesday.
Photograph: Prakash Singh/AFP/Getty Images

The Mittal Steel-Arcelor saga