Advertisement
July 13, 2007


Advertising agency McCann Erickson won four Lions at Cannes. Its film for Happydent chewing gum won a silver Lion in the sub-category Sweet Foods and Snacks as well as a bronze for Best Use of Music. The agency also won two Bronze Lions -- one for Kansai Nerolac and the other for Cocco's Cafe.

Prasoon Joshi, executive chairman and regional creative director, south and south-east Asia of McCann whose Coke ad won a Gold Lion at Cannes some years ago, speaks to Shuchi Bansal about the awards and the challenges facing India's advertising industry. Excerpts:

Cannes is said to be an excuse for the advertising fraternity to party. Do you agree?

It depends on what your priorities are. There are lots of parties also. But many renowned advertising professionals come and speak there. You get to interact with them. I have been going to Cannes for the last eight years. You get to see a lot of work that's been done worldwide.

Does the event make money from the entry fee charged for the works?

Yes, the entry fee sustains the awards, unlike film festivals where you get sponsors. The awards are just a reputation thing. You go there and you celebrate. I often say that Cannes should be seen as a celebration of creative work and not as a competition. It is different from the Olympics where players prepare themselves throughout the year to win a medal. Instead we practise to grow our client's business. Awards are incidental.

Many Indian entries are ads that either see a token release or are not even released.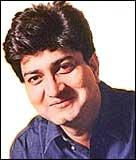 Yes and no. There is legitimate work as well as work created just for awards - it's a bit like fashion where you create clothes to impress the jury when you know that people will not wear them in real life. Eager to win awards, advertising professionals create some one-offs since the sensibility of the international jury is very different from the sensibility of the Indian consumer.
Should there be a correlation between award-winning campaigns and product sales?
Cannes honours the idea and the craft. These are purely creative awards. There are other awards that celebrate effectiveness or the impact of advertising. But yes, great ads, which have won awards have also done a great job for the clients. It need not work the other way around though.
There are separate companies/consultancies for media, design and brand development. Will the agencies die?
Ad agencies offer communications solutions to the client's marketing problems. Clients are pretty much capable of understanding their brands. They come to the agency to figure out what's the best way to project the brand in the consumer's mind. As long as an ad agency sticks to its core competence of providing solutions, I don't see any threat.
But industry revenues aren't growing.
It is a passing phase. Agencies should be growing more. There is a lot of money in the market. The big threat, however, is brain drain. Good minds are leaving to join the burgeoning entertainment industry -- both, TV and films.
The investment in films is unbelievable. And advertising is a great place to poach from. The money being offered to creative people, writers and directors is unbelievable. But there are still those who love advertising. I can do so many things but I'm in advertising because I love it.
Is the profession losing its respectability?
No. It's just becoming tougher. Everything is required now. The country is booming with launches. Earlier, we made one commercial and ran it for three to four years, or maybe more. And people had one channel to watch it on. Today the shelf life of an ad is very short. You need to churn out scripts much faster.
We may win creative awards, but unlike, say, in the UK, there are hardly any creative hot shops in India.
True. In advertising, the learning still flows from the west to India. We have very few global Indian brands. If Unilever, for instance, were to be an Indian company, it could have tied up with a creative shop here which could have then grown with the company into other countries.
When MNC brands come to India, they want to work with the same agencies they are working with internationally. For instance, we handle Microsoft, Intel and Coca-Cola in India. However, it does not mean that we don't initiate Indian solutions like "thanda matlab Coca-Cola". Smaller creative shops will also do well now because Indian companies are doing well.
So it's not because we lack talent?
Not at all. We have a lot of talent. In the west, it was individuals who started creative shops. I keep getting offers from VCs to do the same. India will become the hub of creativity.
You have worked on "mass" products like toffees and chewing gums. Have you created advertising for the decisionmakers or worked on premium brands?
I have worked on cars (General Motors), Xbox 360 and Microsoft, which is not really "mass".
But the theme of your communication is still always "mass"?
I have done less work on niche brands. I feel India is a game of numbers. So you have to reach as many numbers as you can. Yes, my expertise is definitely in addressing the masses.
Is there a lot of Bollywood influence on your advertising work?
Bollywood is not a childhood influence. I come from a family where you were not allowed to listen to film music. I have been brought up on Bade Ghulam Ali Khan, Amir Khan, DV Paluskar and Kishori Amonkar. Of late, I have learnt a lot from the Hindi film industry, which borrows from our culture. I try to bring Indian grammar to advertising for sure.
Often, people make great looking ads and then call to say, "I made such a great ad but it is not working." The only thing I tell them is that it's not about the look and feel, it's about the grammar of this country. For example, the country has had a strong oral tradition. So in my ads you will find the audio part - whether it is music, dialogues or sounds effects - very powerful.
Many people are said to have quit McCann ever since you took over as the executive chairman six months ago.
People leave when leadership changes. Am I a poor people's person? Well, I've always been this way. I am a management graduate by education (from IMT Ghaziabad). But by my skill sets, I am a great thinker.
So I have combined the two and do whatever I can for my clients. I will be fooling myself if I say that people have not left. It is not a notional change. If it is a real change then you will find people who may not want to be in the same boat.
In some agencies the bosses claim credit as well as the awards for the work youngsters may have done. Is it true?
It's not possible in today's world. Youngsters would come forward and claim their work. Besides, if you are lying you will get exposed one day. It is very easy to accuse someone who's successful. Success is not an underdog.
You have done lyrics and dialogues. How about doing scripts and eventually directing a film?
I am helping with the script of Rakeysh Mehra's (of Rang De Basanti fame) new film Delhi Six. I'll make a film when I have something to say. What I want to say, I say through my songs. I am 37; probably, I can still wait a few years.
Executive chairman at 37. What now?
Powered by

More Interviews