Home > Money > Pix

Tatas pip CSN to win Corus takeover battle

January 31, 2007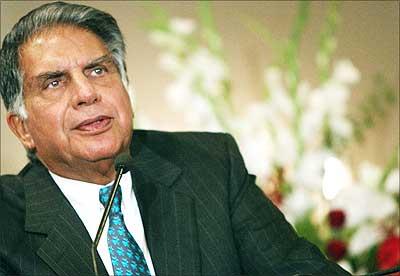 The Tatas on Wednesday pipped Brazil's CSN to acquire Anglo-Dutch steelmaker Corus Group Plc at slightly more than $11 billion.
With a bid of 608 pence a share, Indian corporate giant Tata Steel outsmarted CSN's 603 pence a share offer during the night-long auction process.
Brazil's CSN pulled out of race after raising its bid to 603 pence a share.
CSN officials confirmed pulling out of the race to acquire Europe's second-largest steel firm after a final offer of 603 pence a share. Tata officials remained tightlipped.
Tata Steel raised its final offer to 608 pence a share by the time the auction entered the concluding ninth round from 500 pence a share at the start of the auction.
Announcing the auction outcome, the UK Takeover Panel said Tata Steel bid 608 pence a share in cash as against CSN's 603 pence a share.
"This auction procedure has now completed," the Panel said in an e-mailed statement.
Tata Steel's winning bid of $11.3 billion puts Corus Group's enterprise value, which includes debt, at more than $13 billion.
The takeover marks the largest acquisition by an Indian company and would propel the combined entity led by Tata Steel to the fifth rank in steel output in the world.
The nine-round auction called by the UK Takeover Panel began at 2200 hrs Indian time (1630 hrs GMT) on Tuesday.
Tata Steel had initially bid $9.2 billion (4.6 billion pounds) against CSN's higher $9.6 billion (4.9 billion pounds) last month, prompting the UK Takeover Panel to intervene and pick the winner through open bidding.
Under the auction norms, each suitor was required to raise bids by a minimum of five pence per share.
With this win, Tata Steel has now entered the big league of the global steel industry. Tata-Corus would have a combined production of more than 23 million tonnes.
Currently, Arcelor-Mittal is the world's largest company in this space, followed by Japan's Nippon Steel and South Korea's Posco.

The Corus acquisition would also help Tata Steel to be a 40 million tonne per year entity by 2012.


TOP TEN GLOBAL STEELMAKERS
Rank
Company Name
Capacity
1
Arcelor-Mittal (Luxembourg)
109.7 MT
2
Nippon Steel (Japan)
32.0 MT
3
Posco (South Korea)
30.5 MT
4
JFE (Japan)
29.9 MT
5
Tata-Corus (India)
23.8 MT
6
Baosteel (China)
22.7 MT
7
US Steel (USA)
19.3 MT
8
Nucor (USA)
18.4 MT
9
Riva (Italy)
17.5 MT
10
ThyssenKrupp (Germany)
16.5 MT
Tata Group chairman Ratan Tata addresses a press confrence in Mumbai 31 January 2007.
Photograph: Sajjad Hussain/AFP/Getty Images
Inputs: PTI