Home > Business > Interviews


The Rediff Interview/Ratan Tata, Chairman, Tata Group

'Markets are taking a short-term view'

February 01, 2007



At the age of 69, Tata Sons Chairman Rata Tata, a licensed pilot, still occasionally flies the company plane. In the auction for Corus Group, Tata displayed similar flamboyance by quoting a price as much as 34 per cent higher than what he had first quoted.

In the process, he also dispelled age-old notions that the group may be too cautious to win such a battle. His high energy level was evident today as, having stayed up all night for the auction, he still went through a hectic schedule of press conference and interviews with customary poise. He shares with Kausik Datta and Suveen Sinha his views on a range of issues. Excerpts:

Indian companies have of late been making a large number of acquisitions overseas. What are the issues that they face in such endeavours?

I have always believed that if you really want to be a global company, you have to dismiss your notions of a single nationality and treat yourself as a truly global company operating in global markets having operations in different geographies.

In fact, you should have the look and feel of a local company in that geography. When we undertake to acquire a company, we spend a lot of time prior to that convincing ourselves that the cultures of the two companies are similar, because nothing can be more destructive than to have conflicting cultures.

Therefore, in most of our acquisitions, you will find that the management of the company we have acquired, or bought into, remains with the company and over time integrates itself with the Tata Group. It is true about Tetley, Daewoo Motors and many others that we have acquired. So there are challenges with different nationalities and with different work systems but by and large it has worked reasonably well.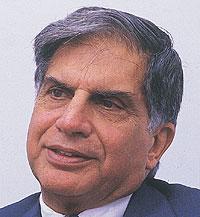 As one of the senior-most businessmen in the country, what would be your advice to other companies, your colleagues in India Inc, as they aspire to clinch overseas acquisitions, especially big ones like the one you have just clinched?
When we made our first bid to acquire the company (Corus), many thought it was an audacious move ... an Indian company making a bid for a European company much larger in size. I believe that this will be the first step in ensuring that the Indian industry can in fact go outside the shores of India in an international market place and, in fact, acquaint itself as a global player.
Why was Corus so important to you? In spite of stating repeatedly that you would be realistic about the price, you are paying one that is seen as high by many, including the stock market. What would you tell the stakeholders?
The acquisition of Corus was a very important strategic decision, but not a do-or-die one. It was not a decision based on making Tata Steel a much larger company, but an important strategic move. Corus is a unique opportunity for Tata Steel in terms of the scale, its location and its culture.
Tata Steel saw a strategic fit with Corus in the UK and the Netherlands, which would give it a global reach in Europe and synergies with low-cost intermediates in India.
Coming to the auction, which started last night and went through the night, we were able to win the auction away from the Brazilian company and Corus has been happily acquired by an Indian steel company.
I think it's a moment of great fulfillment for all of us in India because Tata Steel, as an Indian steel company, now has global scale with a footprint in Europe. I think it is the commencement of Tata Steel's global strategy. It also elevates Tata Steel to the fifth largest steel company in the world.
We have satisfied ourselves that the company has in no way jeopardised the interests of the shareholders by this acquisition and I believe that over the next few years we will all come to think that this was a visionary move and the long-term repercussions will be very-very positive for India and Tata Steel.
The cultural fit, as you say, is critical. In that sense, the real work for you begins now. What do you see as your immediate agenda?
We have been talking to Corus for over a year now and believe that there exists a cultural fit. Both Tata Steel and Corus have work practices that are very similar and this cultural fit between Tata Steel and Corus is of fundamental importance to any post acquisition, integration process. We are putting in place an integration committee which will look at aligning the two companies and realising the synergies.
What about the management of the combined entity? Surely, even though Corus management stays, changes must be in the offing.
The CEO of Corus will remain the CEO of Corus. As we integrate the two companies, we will work with Mr Muthuraman (Tata Steel managing director) in terms of applying the synergies that we hope to apply.
The top management of Corus will remain with the company and therefore will be part of our integrated operations and this in itself is an expression of faith and confidence that the existing management has in the management and the ownership of Tata Steel. So I look forward to a very worthwhile unison between our two companies.
The stock market has given a thumbs down to the Corus acquisition. Is the market taking a short-term view?
The market is both taking a short-term view and a harsh view. We often damn a company when it makes a loss in a single year. We applaud a company when it makes an extraordinary profit. But the life of a corporation is much longer than a single year.
It will take several years for us to build a 19 million tonne enterprise from scratch, leave alone establishing it in Europe with a brand name. If you look at the consolidated company together, the synergy will be quite substantial. It will also be part of a global strategy that Tata Steel has and is yet to unfurl. Hopefully, in future, it (the market) will look back and say it (the acquisition) was the right move.
Finally, Tata Steel agreed to pay 608 pence a share, or marginally over $11 billion for this acquisition. Ths is far more than its first bid of 455 pence a share. How do you justify paying this amount?
Investors came in and increased the price. We have to pay for getting the company. As a prudent management, we had taken a view that we would not go beyond a point. We did not reach that point. Had we reached, we would have walked away. Overbidding or not is subjective when it comes to a judgement call.
More Interviews