Home > Money > Pix

Tata-Corus: Cautious welcome to High Fives

BS Reporter in New Delhi | February 01, 2007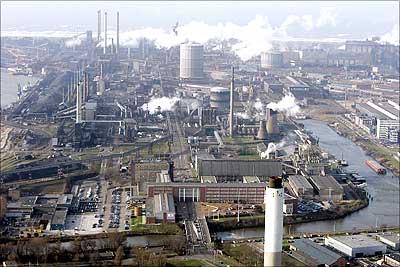 Analysts on Wednesday welcomed the Tata group's $12.15 billion acquisition of Corus in a long-term perspective even as they sounded cautious about the short-term, citing the huge cost burden Tata Steel could bear on its shoulders.
The stock market echoed the short-term concerns as the Tata Steel stock was hammered by 10.66 per cent to Rs 463.95 on Wednesday, ignoring the fact that the acquisition propelled the Indian company to the position of fifth-largest steelmaker in the world.
Tatas' final offer for Corus was 34 per cent higher than its first offer in October.  Analysts said the price was expensive and that it could strain the finances of Tata Steel at least in the short term.
Analysts said they were confident that Tata Steel's successful low-cost model in India would help them to recover from the initial financial stress of the multibillion dollar takeover in coming years.
"There are lot of synergies between the Tata Steel-Corus combine in the long term, like logistics, procurement of raw materials, geographical mix. But the higher valuation of Corus would put pressure on the consolidated financials of the company," Hitesh Agarwal, metal analyst with Angel Broking, said.
"Growing their capacities inorganically, the company is definitely benefited as the $12.15 billion deal expanded capacity by around 19 million metric tonnes. Now, for starting a project from scratch in India and expanding capacities to this extent could have consumed a lot of time and energy. Considering these factors, what the company has paid is 60-70 per cent of the cost it had to invest to grow organically," Vikas Chokhra of Edelweiss Securities said.
However, Tata group chairman Ratan Tata dismissed the critisism of the group overbidding to acquire Corus. "Overbidding or not is subjective when it comes to a judgement call," he told a news conference on Wednesday.
"The good part of the deal is that the combined capacities of the new entity are well defined. The company will know what production they could generate and thereby define their policies. This is very crucial, but given the successful low-cost model Tata Steel has maintained, they could sustain these 4-5 years in a better way," an analyst with SBI Capital said.

Aerial view of the Corus Hoogovens complex on the Northsea channel in IJmuiden, Netherlands.

Photograph: Vincent Jannink/AFP/Getty Images