December 12, 2007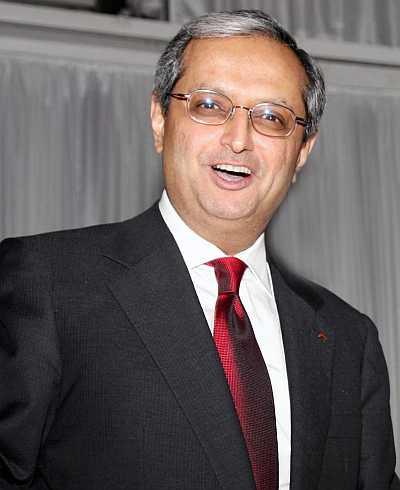 India-born Vikram S Pandit has been appointed the chief executive officer of Citigroup, the world's largest financial services organisation, with immediate effect.
The 50-year-old Pandit from Mumbai and Nagpur, has also been made a member of the board of directors, ended a weeks-long high level search for a new person to lead the New York-based banking giant after former CEO Charles Prince stepped down on November 4 following huge investment losses for Citigroup.
Acting CEO Sir Win Bischoff will succeed former US Treasury Secretary Robert E Rubin as company chairman. Rubin, who is considered close to Pandit and who strongly supported his candidature to the CEO's post, will continue to serve the group as chairman of the executive committee of the board.
"Vikram has earned a reputation as one of the most respected leaders in the financial services industry. The combination of his deep executive experience and long history as a strategic thinker makes him the outstanding choice to be Citi's CEO," Rubin said.
"The board is unanimous in its conviction that, as part of a new generation of executives in this industry, Vikram is the right leader to build on the exceptional strengths of this great company and take the steps necessary to lead us forward," Rubin said in a statement.
Pandit, who was Citigroup's investment banking head before his new appointment, also briefly headed a hedge fund called Old Lane earlier this year.
Pandit has also held a number of senior positions at Citigroup rival Morgan Stanley for more than two decades,
including the post of president and chief operating officer of the Institutional Securities Group, which included the company's investment banking, fixed income and capital markets businesses.
After his appointment by Citi's board of directors, Pandit said: "I am honored to become Citi's leader to drive the changes we need. Citi is an extraordinary institution with tremendous talent, resources and capabilities and geographic and business scope."
Pandit said his priorities will be to simplify the company's organisational structure and "aligning our businesses and resources with appropriate goals and economic realities."
The list of contenders for this job, apart from Vikram Pandit, included Shaukat Aziz, formerly the bank's global private banking business head and most recently the prime minister of Pakistan, and Ajay Banga, who is chief of Citi's international consumer banking group.
Pandit takes over at a time when markets are hit by credit crisis.
The top job had fallen vacant after Charles Prince resigned as Citigroup's chairman and CEO at an emergency board meet on November 4 on the back of losses worth billions of dollars suffered by Citigroup in the subprime crisis.
After Prince's departure, Citigroup named its Europe chairman Win Bischoff as an acting CEO and its executive committee chairman and former US Treasury Secretary Robert E Rubin as chairman on interim basis. Rubin is also part of a search committee for the new chairman and CEO and this committee has been reviewing candidates from both inside and outside the bank.
Pandit's name as the next CEO started doing the rounds ever since it became known that Prince would put in his papers, but the bank had decided to review other candidates as he is rather new at the bank. He took over Citigroup's investment banking operation in early October, just six months after joining the bank.
Shortly after the appointment, Pandit told investors that his first priority would be to improve and enhance productivity. That begins with allocating capital in an objective way where there are clear growth opportunities.
Leading financial daily Wall Street Journal said Pandit will face a tall order in rejuvenating Citigroup's stock price, which has plunged 38 per cent this year.
Pandit is known among his colleagues as a clam executive and the Journal said he is expected to make structural changes that are already under consideration.
"Some business lines may be cut and others reorganised," the paper quoted a person familiar with the studies as saying.
"A broad cost-cutting plan to supplement one initiated by Prince is likely. While Citigroup executives are already hammering out details, the final decisions will likely wait for several weeks after Pandit has settled into the job," the person, who was not identified, told the Journal.
Wall Street analysts said investors would be closely watching Pandit's steps. His agenda, an analyst on CNNMoney said, will initially be influenced by the immediate severity of bad loan losses and other pressing problems at Citigroup.
But within his first month, investors will also want a clear indication of where he stands on important longer-term questions, like whether large parts of the bank should be sold off.
Pandit serves on the boards of Columbia University, Columbia Business School, India School of Business Hyderabad, India and the Trinity School (NY). He is a former board member of Nasdaq, New York City Investment Fund, American India Foundation and the Council on US Competitiveness.
He earned a Ph.D in Finance from Columbia University. He also holds a Master's degree and a Bachelor's degree in electrical engineering from Columbia University.
Citi has some 200 million customers in more than 100 countries, and provides consumers, corporations, governments and institutions with a broad range of financial products and services, including consumer banking and credit, corporate and investment banking, securities brokerage, and wealth management.
Citi's major brand names include Citibank, CitiFinancial, Primerica, Smith Barney and Banamex. -- PTI and Agencies
Photograph: Jay Mandal