April 12, 2007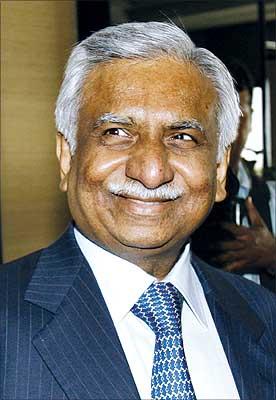 Ending months of acrimony and legal disputes, Jet Airways on Thursday struck a deal to buy out Air Sahara for Rs 1,450 crore (Rs 14.50 billion) after clearance by a three-member arbitration panel.
Jet Airways Chairman Naresh Goyal said this price represents a 40 per cent discount to the originally agreed price.
All shares of Air Sahara is to be transferred to Jet on payment of Rs 1,450 crore inclusive of Rs 500 crore (Rs 5 billion) already paid by Jet. The remaining amount is to be paid in instalments, the counsel for Jet Harish Salve said.
Is Jet-Sahara deal good for you?
Jet informed the Bombay Stock Exchange that it has agreed to acquire "all shares of Sahara Airlines Ltd for a lump sum price of Rs 1,450 crore.
"While Rs 500 crore has already been paid, Rs 400 crore is payable immediately no later than April 20. The balance of Rs 550 crore is payable in four interest free annual equal installments commencing on or before March 30, 2008."
Soon after the deal was signed, a beaming Naresh Goyal, said: "It is a good deal which is going to help us. We got a 40 per cent discount to the original price of Rs 2,300 crore (Rs 23 billion). The deal is commercially viable since we are getting a lot of infrastructure and manpower - areas where India is facing a lot of pressure now. The airline business has not changed so dramatically... the deal makes complete economic sense."
The deal was signed after the panel comprising British Judge Lord Stein and Supreme Court Justices S P Bharucha and Jeevan Reddy, vetted the draft proposal prepared by Jet and Sahara.

The two then submitted a revised and final proposal to the three-member court-monitored committee, sources close to the development said.
Pallabh Agarwal, executive director, Sahara Pariwar and the group's lawyer Jeffrey Gordon were present on behalf of Sahara when the deal was signed, while the other side was represented by senior counsel Harish Salve and Saroj Dutta, besides Jet Chairman Naresh Goyal.
The development came three days into a week-long, court-monitored arbitration between Jet and Sahara over the original failed merger in 2006.
Jet Airways is understood to have gone ahead with the deal, as otherwise there was a possibility of it losing at least Rs 500 crore to Air Sahara.
The deal would give Jet more than 32 per cent share of the domestic aviation market and add at least 27 aircraft to its 62-aircraft fleet, in addition to prime landing and take-off slots at major airports such as London Heathrow, New Delhi and Mumbai.
It would become the only privately owned Indian airline with permission to fly overseas.

Shares of Jet Airways on Thursday recovered after a continuous fall on the BSE to gain over 2 per cent amid the acquisition proceedings for Air Sahara.

The scrip touched an intra-day high of Rs 624.90 and was trading at Rs 616 on the Bombay Stock Exchange.

Jet-Sahara deal may temper fare war
Jet may buy Air Sahara for Rs 1,800 cr

Jet Airways founder and chairman Naresh Goyal addresses the media in Mumbai after clinching a deal to take over Air Sahara.

Photograph:  Sajjad Hussain/AFP/Getty Images

Additional Inputs: BS