Home > Money > Pix

Nasdaq celebrates Diwali

October 18, 2006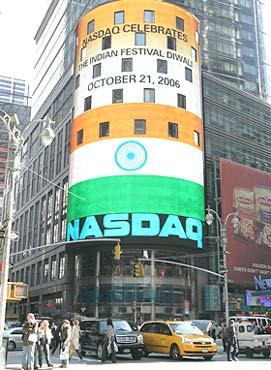 Diwali merriment is in the air.
The Indian stock markets have already hit their highest-ever level Diwali and with analysts around the world suggesting that India is amongst the best emerging markets to invest in, the cheer is spreading further. The American markets too are at an all-time high.
And even as India readies to celebrate the Festival of Lights on October 21, the Nasdaq Stock Market too has joined in the festivities.
A Diwali message on the seven-storey Nasdaq Stock Market tower at Times Square in New York.
Photograph: Rob Tannenbaum, Nasdaq
� Copyright 2006, the Nasdaq Stock Market, Inc. Reprinted with permission