Home > Money > Pix

Prince Big Foot arrives in India

November 02, 2006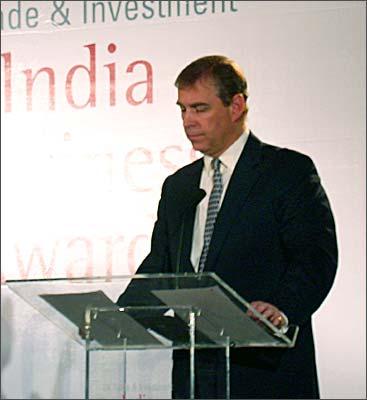 The great, great, great grandson of Queen Victoria, empress of India, surprisingly, set foot in India for the first time on October 29, 2006 at the age of 46.

Prince Andrew, Duke of York -- whose brother, Prince Charles and parents, Queen Elizabeth II and Prince Philip, Duke of Edinburgh, have been fairly frequent vistors to India -- arrived in this country with the special mission of giving Indo-UK trade a boost.

Andrew's first dekko at Hindustan was very focused and all business. It lacked the drama that greeted Prince Charles when the then budding actress Padmini Kolhapure kissed him on the cheek in Mumbai in 1980.

On the seven-day trip Andrew attended business seminars in Delhi; visited the Wipro headquarters in Bangalore (now known as Bangaloru); checked out the Tata Consultancy Services Banyan Park facility -- TCS is one of the 10 largest investors in Britain -- met Indian films stars Abhishek Bachchan, Saif Ali Khan, Preity Zinta, Rani Mukerji, Bobby Deol as well as director Karan Johar and producer Yash Chopra at Yashraj Studios in suburban Mumbai and met children at Magic Bus, an NGO working with underprivileged children in Mumbai.

On his last evening in Mumbai he handed out delicate red hand-blown glass trophies (made by a British Assamese craftswoman) to top Indian businessmen in recognition of their investment and contribution to Britain at a formal dinner at the Taj Land's End five-star hotel in Bandra, northwest Mumbai.

The evening was the first ceremony hosted by the UK Trade and Investment India Business Awards, instituted by British Prime Minister Tony Blair on his visit to India in 2005.

Ajay Piramal, chairman, Nicholas Piramal, Yogesh Chander Deveshwar, chairman, ITC Ltd, Lord Karan Billimoria, CEO, Cobra Beer, were among the businessmen honoured with the awards.

The evening began with a few references to outsourcing and the fact that outsourcing is evidence that business makes the world a smaller place. British High Commissioner Sir Michael Arthur remarked that if a sewer near Buckingham Palace malfunctioned it was an engineer in India who sent out the alarm that brought plumbing experts in London to fix it.

Andrew, clad in a dark suit and looking much younger than his 46 years, was seated next to Kiran Mazumdar-Shaw, chairman, Biocon India, throughout the evening. When he arrived at the dais he spoke earnestly and seriously, with a touch of humour, about the important role India plays in British business.

India, he said, had replaced Japan as the second highest investor in Britain and reiterated his commitment to build awareness towards growing a special trade relationship with India.

"I am here to say that whatever the case previously, British business is now keen to come to India both as direct investors as well as partnering with Indian companies," he added.

Earlier, Sir Michael mentioned that royalty had an important task in bringing about awareness in various fields by delivering sharp kicks on people's backsides in that regard. Andrew participates in nearly 250 trade related events every year. In his closing remarks the prince mentioned that he did not mind being "either the big foot or the sharp toe" responsible for heightening awareness in connection with Indo-UK trade.