Advertisement
May 19, 2006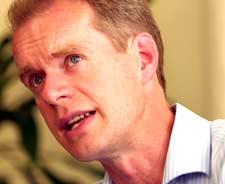 Where will the balance of power lie in 2026 and what will be the impact of India and China on the rest of the world -- is a topic that has remained in sharp focus as the two countries continue to make great economic progress.
In a special series, Emerging Giants that will be telecast on BBC World, the channel will explore where the economies of India and China are headed in the next 20 years and will present an international perspective on what the world's leaders see as the real picture on the two economies.
Stephen Sackur the presenter of HARDtalk, will interview four guests -- Civil Aviation Minister Praful Patel, industrialist Rahul Bajaj, environmentalist Vandana Shiva and Magsaysay Award winner Jockin Arputham of the Mumbai Slum Dwellers Association.
A former Europe, Middle East and Washington correspondent for the BBC, Sackur spoke to Archana Masih about the special series and India's role in the world.
What can one expect on the special edition of HARDtalk this coming week?
A different cross section of the Indian economic story and the social impact that comes with it.
Praful Patel: We interviewed the aviation minister because we wanted to explain how the aviation sector is growing rapidly. They are ordering a vast number of new planes, new private airlines are being established but the real question is the infrastructure. If the airports and transportation system can cope with the rate of growth -- so we put these questions to him.
A Jockin of the National Federation of Slumd Dwellers still lives in a Bombay slum. He is a very interesting person because he has turned the most poorest, voiceless people of this city into a sort of political movement. He is also talking about the degree to which the growth story of India yet hasn't in many ways impacted upon the poorest.
'No government takes the poor seriously'
Rahul Bajaj: His argument is -- yes India's changing but it needs to change a lot more. He thinks India is still over regulated, too bureaucratic, too much red tape but interestingly he is opposed to the reservation regulation that the government is going to or trying to impose.
It will be interesting to ask him if he believes that if India has to change and has to involve the poorest in the economic growth then maybe the reservations policy is one way of doing it. But he is opposed to it because he thinks it will be bad for business and meritocracy will suffer.
Vandana Shiva: The environmentalist is very concerned that growth is leading to a corporate takeover of India in terms of agriculture. Poor farmers suffering as big companies try and sell them more expensive GM seeds, privatisation of water becoming a possibility. She believes if not handled correctly, India's growth could damage the interests of the poor.
With her there were some interesting and tough questions about whether her sort of ideological perspective on India and the need to stand up for the poor could some time actually stand in the way of reform and delivering better services which in the end would benefit the poor as well as the rich.
What are the biggest changes you notice in India?
I find India is buzzing in a way it probably has never buzzed before. There is a belief that things can change. Even in the slums where people believe that they are not getting a fair share from the growth that India is seeing, I do sense a sense of possibility that wasn't there before.
Aspirations that things will be better for their children and their children. That is a new positive vibe.
The other thing about this country is that it is an extraordinary democracy and decision-making is complicated. The national government, the state government, the judiciary, they all have a stake in change and change therefore is never easy.
Compare it with China where the government if it decides that something has to be done, it will be done and it doesn't really matter what the people think. There is no real accountability like there is in India. That is why things are more complicated and a little slower, a lot slower sometime in India than in China.
Maybe on the face of it, it gives China a major competitive advantage but in the long run democracy and a sense of people having a stake in the economic reform programme is very important and that's where in the long run India scores.
There is a constant India-China debate but is it really fair to compare the countries when they are so very different?
If you are implying that is it really fair to send a signal to say they are the same -- no. That would be ridiculous. What our week is trying to say is that both are going to be crucially important to the world over the next century and more. It is important to understand both. But by understanding both, you probably come away with a greater sense of that difference.
'Manmohan is India's Deng Xiaoping'
We are not saying that India and China as emerging economic powers are coming from the same place or heading for the same direction. It just so happens that both these countries are on the radar of the West as perhaps they have never been before. Both happen to be developing at an extraordinary rate and both have the demographic power to change the way we think about the world.
Emerging Giants will be aired globally on BBC World from May 22 to May 28.
Part II: 'It won't be easy for India to be a 21st century economy'
Photograph: Jewella C Miranda
More Interviews