Advertisement
March 24, 2006


Naukri.com chief executive Sanjeev Bikhchandani first got to know about 'Internet' in October 1996 at the IT Asia Expo at Pragati Maidan in New Delhi.

The subject fascinated him and he delved deeper into it. No sooner did he do that than it occurred to him that this could be the mode of communication that he had been looking for to turn his dreams into reality.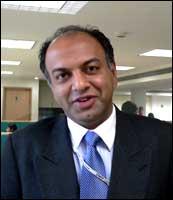 "I found more about what it (Internet) was and realised that this could be a potential medium on which we could deploy the jobs database idea which we had abandoned five years earlier," Sanjeev told Senior Associate Editor Onkar Singh in an exclusive interview at his office in Noida.
By December 1996, he had acquired enough knowledge about the Internet, how it operates and its reach, and decided to launch a job site called Naukri.com.
Since then, he has also launched two more companies: a matrimonial site Jeevansathi.com and a real estate portal 99acres.com, which together fetched revenues in excess of Rs 45 crore (Rs 450 million) last year. For the fiscal 2006-07, he is looking at a revenue figure of Rs 80 crore (Rs 800 million).
Why did you give up your job at The Pioneer (newspaper) to start naukri.com?
I did not give up my job. The fact is that I was already working on naukri.com and also at The Pioneer because the financial health of my company was not so good at that point in time.
However, when we took venture funding for our site, I decided to quit my job at the newspaper. Otherwise I could have continued with my jobs at both the places.
But then, I had to make a choice because we had to save our own venture and we needed venture capital and hence it was necessary that I give full attention to naukri.com. And those who give you money want you to spend your time full time of the project that they have paid to back up.
How did you think of launching a portal on jobs?
While I was working with GlaxoSmithKline [Get Quote] (then called HMM), I noticed that marketing executives who used to sit in an open hall would take the copy of Business India and read the 'appointments' section first. This observation stayed with me. I figured that even if you are not looking for a job you will look at a job.
Jobs, I realised, are extremely high interest information category for almost everybody.
What was it like in the initial stages?
For the first three years we had to struggle. We operated from my house. I would work from six in the morning to 12 at night and go to The Pioneer for a few hours in the afternoon. I had a dial-up connection at home and would upload the site myself. That was literally a hand-to-mouth stage.
When did you think of putting in more money into the venture to make it a viable proposition?
It was around 1999 that we started getting phone calls from people who suggested that we should raise venture capital. Towards the end of that year I realized that the big money game was about to begin and hence I had no option but to go in for venture capital.
Were you sure that people would log on to naukri.com?
Soon after we launched our site in 1997, the site became an instant hit. People began to respond. By 1999, we were confident that this site was good and delivering. It was bringing us good revenue. We were very sure that this is an idea that would become a big hit.
What kind of advertising revenue did you get in the first year?
We got about Rs 2.5 lakh (Rs 250,000) from our clients in the first year. In the second year, we made Rs 20 lakh (Rs 2 million). In the first year, we lost about Rs 5 lakh (Rs 500,000), but subsequently we broke even. With every passing year it kept on increasing.
In 2005-2006, the targetted revenue is about Rs 45 crore (Rs 450 million). We expect this to go up to Rs 80 crore (Rs 800 million) in the next year.
Which was your first advertisement?
It was in September 1997 that we got our first advertisement. It was an automobile company. I forget the name. It sent us six advertisements for a total sum of Rs 2,100. I remember we were very excited about it. It was our first cheque.
After two weeks I called up the company in Pune and spoke to the secretary of the managing director. I asked him how was the response. He said it was good. I asked him if I had been hired. 'Not yet,' came the reply. But I felt good that our clients were getting good response from their advertisements on our site. But the amount was too small to call for any real celebrations.
Did someone tell you that this was not a workable proposition?
Yes, when I discussed the idea with some persons, who had experience in dotcoms, they said that this was a crazy idea and it would not work. They said that this would work only for software and not for other things and hence I should not put other advertisements. But we continued, and now we are working well.
How many people on an average have been able to switch over to new jobs through naukri.com?
I would not be able to tell you the exact figure because we put out only advertisements, but the response is with the clients. We estimate that on an average in a year 10-12 lakh (1 to 1.2 million) people find a jobs through our site. We may not be creating jobs, but we help people to move from one company to another with better job opportunities.
How many people were there with you when you started working on naukri? How many branches do you have?
We started off with 9 persons, including my wife and myself. Nine years later, we have 39 offices located in almost all the major towns of India. We have recently opened an office in Dubai. We have a total strength of 860 employees who work for all our sites naukri, jeevansathi and 99acres.com.
We shut our offices at six in the evening unless some uploading is going on.
What is the response of jeevansathi.com and how do you check frauds in the matrimonial cases?
We are number three in this field. Our terms and conditions are strict and the moment someone misbehaves with one of our clients or sends wrong information about himself or herself, we immediately blacklist them and remove their names from our site.
Do you want to discuss stock tips? Do you know a hot one? Join the Stock Market Discussion Group.
More Interviews