Home > Money > Pix

Hero Honda launches 'All Chrome' Karizma

June 08, 2006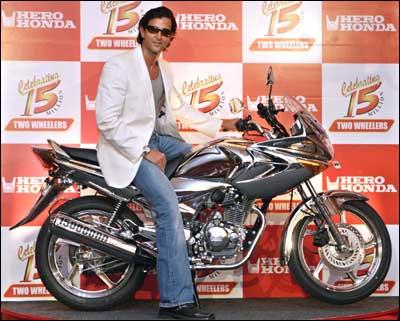 Hero Honda, the world's largest two wheeler manufacturer, on Thursday presented its 15 millionth bike  - a special 'All Chrome' Karizma to Hero Honda Brand Ambassador and superstar Hrithik Roshan.
The keys to this very special bike were handed over to Hrithik Roshan by Pawan Munjal, managing director, Hero Honda Motors Ltd, at a special function organised in the capital on Thursday.
Speaking on this momentous occasion Munjal, said, "The Hero Honda family is elated to have achieved the landmark figure of 15 million motorcycles in the shortest ever time-span.
"To celebrate this occasion, our R&D team has created a very special 15 millionth motorcycle - the customised all-chrome Karizma, a very stylish bike that truly befits our brand ambassador and style icon Hrithik Roshan."
He further added, "This achievement is a reflection of the success of our vehicles, which truly offer customers a combination of the most advanced technology, latest innovative designs and unmatched fuel-efficiency.
"We are very pleased that Hero Honda has been successful in setting new benchmarks for the global two-wheeler industry. This year, Hero Honda will be launching 8 exciting new products to consolidate our market leadership."
Hero Honda achieved the cumulative figure of 15 million two-wheelers in March 2006, in the shortest span of 21 years. The company has recently announced its third plant in Jaipur with an investment of Rs 320 crore (Rs 3.2 billion) and will be commissioned in a year. Capacity expansion of 900,000 units has also been undertaken in the company's existing plants with an investment of Rs 141 crore (Rs 1.41 billion).
Photograph: Prakash Singh/AFP/Getty Images