Home > Money > Pix

Mittal calls on Manmohan Singh

July 07, 2006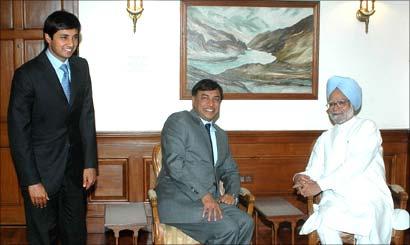 Steel tycoon L N Mittal on Friday called on Prime Minister Manmohan Singh in New Delhi.
This was his first meeting with the Prime Minister since he acquired rival Arcelor.
Mittal, who was accompanied by his son Aditya, however, did not take questions from waiting mediapersons.
Later, he called on Finance Minister P Chidambaram and presumably discussed his plans for making a presence in the country of his birth.
After visiting Orissa this morning, Mittal announced his business plans and shared his perception about prospects in India before calling on the Indian leaders. -- PTI
Steel magnate Laksmi N Mittal and his son Aditya called on Prime Minister Manmohan Singh in New Delhi on Friday July 7, 2006.
Photograph: Ranjan Basu/Saab Pictures