Home > Business > Special


Premji on innovation, creativity

Manu A B in Mumbai | February 16, 2006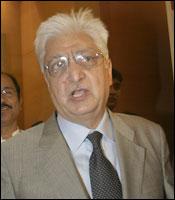 Innovation is a source of great excitement for Indian IT giant Wipro's chairman Azim Premji. In Mumbai at the Nasscom's India Leadership Forum on Thursday, the software czar spelt out where do big ideas come from and why innovation and creativity are imperative for growth.
The Wipro Centre of Excellence, with over 500 dedicated professionals, works on lean technology to software development, new ways of delivering business, and is striving towards creating intellectual properties in the wireless and mobile telephony segment, says Premji.
Wipro bagged 29 major deals in the last quarter: a result of innovation.
With the debate on blending creativity with engineering skills raging across the world, Premji cities the Chinese example where students are encouraged to go abroad to pursue courses in liberal arts.
One needs to think differently to survive in the globalised world. A good blend of creative people and engineers are essential to push growth, according to Premji.
Wipro has become the first company to develop an outsourcing model for remote infrastructure and remote business process outsourcing services. This robust growth will continue, says Premji.
Profits and innovation go hand in hand. He highlights that while the PBIT is 20 per cent for Indian companies, it is about 14 per cent for global IT biggies like Accenture and IBM. The IT world will be driven by people resources. The profit per person realisation is more for Indian companies, and thus Indian companies have an added advantage, he adds.
"We need to build more IT incubation hubs in India to drive innovation at a national level. The Wipro Centre of Excellence is constantly striving to add more value to existing services," he says.
So where do big ideas come from?
Premji says that big ideas often come from customers. Big ideas can emerge from constant interaction. . .  and several unsaid things can be elicited and developed making way for big innovations. Meaningful dialogues with customers will go along way in delivering excellent products. Services and products companies should look at this seriously, advocates Premji.
"We also need to have the courage to hire people who are from different work cultures and see to it that they grow in the organisation and are not pushed out in the long run."
However, he warns that complacency kills creativity. Complacency should be rooted out of all levels of management.
How different is innovation from creativity?
While innovation is 'doing' things differently, creativity is all about 'thinking' differently, says the Wipro boss. "Innovation is essentially the application of high creativity. It need not be restricted to just products, it applies to services, employee attitude and across all levels. Innovation is a fundamental mindset pursued seriously by an organisation. It is imperative to imbibe the culture of innovation."
"There is a need to include more people with a creative bend. India is known for its great art and literature. The same spirit must be incorporated in business and economics," he adds.
"Innovation is a spirit that evolves the mind, body and spirit. In other words, one has to do things which no one else has done before to create a better tomorrow," sums up Premji.
More Specials


What do you think about the story?








Read what others have to say:





Number of User Comments: 11








Sub: Self responsiveness to reveive new ideas.

Mr.Premji's observation that big ideas come from outside or other people is true but at the same time one has to be responsive to these ...


Posted by Anil Kataria









Sub: Mindset of Innovation

Indian technology and industry are finding themselves in a refreshingly new and challenging environment, driven by globalization. The worldwide competition in delivering products and services ...


Posted by Giri Girishankar









Sub: yes for creativity

I go by the views of MR.premji.. Inorder to shine well in any field one must be highly innovative and should be able to apply ...


Posted by prem









Sub: perception

Mr premji's wipro seems to be in shambles, thats what is the general perception, which has started gaining ground. It always plays the second fiddle ...


Posted by rakeysh mehra









Sub: Innovation and creativity in IT

Unfortunately, in our country, creativity and innovation in IT industry means coding and testing of software products conceived and designed by others. We are simply ...


Posted by Dr. Pervez Ahmed






Disclaimer