Home > Business > Interviews


The Rediff Interview/Leonard Brody, technology entrepreneur

'India most important online market, not China'

February 15, 2006



When Leonard Brody talks about business, a lot of people in Canada take notice. They listen because he is one of Canada's young technology entrepreneurs, someone who also co-wrote Everything I Needed to Know About Business...I Learned from a Canadian, a book that sold in fairly large quantities.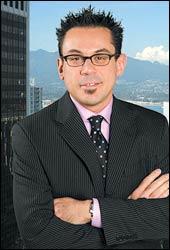 Brody started off with an Honours Bachelor of Arts from Queens University, in Kingston, Ontario, Canada, before studying law and following it up with a course in private equity from the Harvard Business School in the United States. Then, realising his skills were a good match for venture capital, he plunged in to emerge, over a period of time, as a businessman.
A sought-after public speaker in Canada, he has also co-authored Innovation Nation: Canadian Leadership from Jurassic Park to Java. Currently with a globally leading citizen journalism site called NowPublic.com, he is in Mumbai for the NASSCOM2006 conference, where he will share insights on global technology trends. A perfect time for Senior Feature Editor Lindsay Pereira to catch up with him…


Your impressive bio speaks of a large number of successful start-ups. How do you go about deciding to jump on board a particular venture? Is it a solid business plan that entices you, or something else?
When I look at a particular start-up company, I examine two things: One -- Do I like the management and people behind it and, two -- can I add value? Revenue models and business plans in early stage companies are really science fiction. If the management is good, they will be able to shift gears to whatever the market throws at them. I would much rather be involved with an 'A' team than an 'A' business at first.
The dot-com boom and bust years happened not so long ago. Do you foresee a similar scenario repeating itself anytime soon?
Market booms and busts happen on an almost predictable cycle. There will most definitely be another market hiccup in the next 5 years. Whether it will be driven by technology, real estate, political instability or energy stocks is yet to be seen.
The problem with the dot-com era was one of a lack of understanding of the behaviour and infrastructure required to deliver on the promises. The promises have turned out to be completely true, now, five years later. I think we need to be aware of that. It was too much too soon.
Many pundits have said that, with Web 2.0, it looks like we are headed in the same direction. While it is possible, I believe most of the start-ups that are coming into play now are more grounded in reality and require much less personal and monetary capital than 5 years ago. Therefore, they can exist on their own without outside financing. Moreover, many of them are not doing it to make money, they are doing it to be a part of the conversation, to get a seat at the table.
'The numbers are beginning to favour India'
There was an interesting cartoon in The New Yorker, not so long ago, depicting two dogs, one saying to the other: 'Yes, I had a blog, but I decided to go back to pointless, incessant barking.' What would your response to a cartoon like that be, as a venture capitalist and an Internet user?
Blogging is truly one of the most significant business and social changes in our lifetime. It has become the most important marketing and PR vehicle available to many companies. Word of mouth marketing was always the Holy Grail that all businesses pursued. Now, word of mouth is transparent and can be tracked, measured and influenced.
If companies are not part of their own dialogue in the blogosphere, they will be putting themselves at risk. Blogging has also changed the media power dynamic.
'No reason why blogging should not take off in another year or so in India'
Take a look at the most well read blogs -- they have as much traffic or more than traditional media sites. With a lot less investment. Blogging is not for everyone and certainly many people will not take the time to contribute. The numbers are showing clearly that this is a phenomenon that is just getting started. Of course, The New Yorker would print a cartoon like that. they are the ones who stand to lose the most. It exposes their weakness.
What is the single biggest thing the Internet has done to change your life?
It has given me the worst case of attention deficit disorder in history. I can't seem to focus on one thing anymore!
With reference to NowPublic.com, what is it about citizen journalism that attracts you? Do you think it has the power to replace more traditional media handled by professionals?
Is this a trick question? (smiles) Truth be told, I am not a fan of the term 'citizen journalism'. I believe there is a big difference between reporting and journalism.
Journalism is a craft, reporting is simply that -- reporting. News happens on every corner of every street in every city of the world, every minute. Old economies of media do not allow this to be captured.
Now, with the proliferation of digital recording devices, the average Joe or Jane will be the first on the scene for footage. There is just no way around that. Almost all major world events this year were first caught by citizens.
I believe traditional media will continue to master their domain in being editors and arbiters of content. However, reporting will be taken over by an army of virtual reporters. To answer your second question, I think many journalists scoff at citizen reporters as being beneath them or not part of the trade, so to speak. The reality is that journalists are threatened and they shouldn't be.
Citizen reporting provides great material for professional journalists to synthesize, package and analyse. That is what they are good at and now, the material available to them will make that job easier.
If I were to ask you to make a couple of sweeping statements regarding 'global technology trends', what would you would talk about?
Behaviour comes before technology. You can have the best tech in the world, but if no one cares and it isn't being used, then really, so what? We need to learn from 1998 that behaviours around technological change happen in 5-year chunks. So, what was promised in 1998 is really coming true today.
What is being promised today (blogs, citizen journalism, wikis, wimax, VOIP, etc.) will really be ubiquitous by 2010. Behavioural adoption and change is the key to success, not technology.
You come from a place where the idea of being online is radically different from the way it is perceived in countries like ours. Do you think increased Internet access in countries like India will simply alter business and culture in much the same way as it has in the rest of the world?
Absolutely. In fact, I think India will leapfrog what has happened in North America. I believe greater access to broadband and cheaper access devices like PCs and web-enabled mobile phones will have a revolutionary effect here.
I think India will be the most important online market in the world in 10 years, not China.
Could you tell us a little about your book, Everything I Needed to Know About Business...I Learned from a Canadian? What made you come up with the title, and how was it received?
The book was a pet project developed by my co-author David Raffa and I when we realiSed that all the major business figures we admired were, in fact, Canadian. Hence, the title. It is the stories behind 16 great entrepreneurs and their successes, all of whom happen to be Canadian.
Each chapter deals with a specific business issue like financing, bootstrapping, marketing, etc. and gives you the best coach in the world -- a CEO or entrepreneur who is a master in the field.
We are very proud of the book. It is a two time bestseller in Canada and we are donating all author profits to Junior Achievement to support younger entrepreneurs. The book is only available in Canada but can be ordered online and shipped to India. How was that for a shameless plug?
Apart from entrepreneurship, is there anything else you are as passionate about?
I am very passionate about entrepreneurship as the key to the abolition of poverty. I believe in the 'teach a person to fish' theory. So, I hope to spend more time in the future devoting myself to this. Unfortunately, I am passionate about Indian food as well, which hasn't helped the waistline!
If you were to predict a global trend, in terms of technology, what would you say the next big thing is going to be?
I really believe that, to see what 'the next big thing' is going to be, you need to follow what early adopters or the digerati are doing today. It is really that simple. I call if Factor 5 -- the five year behavioural cycles. While blogging, vlogging and VOIP are still not mainstream yet, in five years, they will be.
We are about to embark on the most interconnected society in history. The largest global conversation ever.
With that, comes risk as well. That level of connectivity allows for bad guys to have a seat at the table as well. Look at the cyber-terrorism that has occurred as a result of the cartoons in Denmark.
My concern is that the Web and mobility provide a forum for terrorists to strike without ever having to be physically present. We need to be very worried about that.
More Interviews


What do you think about the story?








Read what others have to say:





Number of User Comments: 5








Sub: Right!!!!

Brody is right in his assessment about the Indian online market. Just imagine, with the PCs becoming cheap, broadband affordable, there's a huge potential for ...


Posted by Seshu









Sub: Still more to see and awareness needed

I agree the scope is huge when it comes to India's internet penetration.But still most of the users are using net for email,dating , jobs ...


Posted by Rohit Awasthi









Sub: China has big road block.

I certainly agree with the author that India would be bigger online market than china. Well china's biggest problem is its dictatorial government, when u ...


Posted by Nayaseed









Sub: Disagree as well

I do not agree with the comment that online market will be much more in India than China in 10 years. I am Indian who ...


Posted by Rajesh









Sub: Disagree

I beg to disagree. I am an Indian studying in UK . The level of technology penetration in huge in CHina than in India. Also ...


Posted by Balaji






Disclaimer