Home > Business > Special


'The industrial logic of Arcelor deal appeals to me'

Stanley Reed, BusinessWeek | February 14, 2006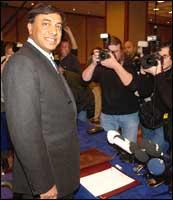 Lakshmi N Mittal hasn't been putting in much time at the office these days. Instead, the chairman and chief executive of London- and Rotterdam-based Mittal Steel, the world's largest steelmaker, has been jetting around Europe trying to sell skeptical politicians and shareholders on his $23 billion bid for Luxembourg-based Arcelor, the industry's No. 2 player.
The fight for Arcelor has a bitter edge, perhaps because Mittal and Arcelor CEO Guy Dollé know each other well, and have raced each other to assemble strong companies in what had been a weak and fragmented industry.
Mittal, 55, talked to BusinessWeek's London bureau chief, Stanley Reed, on January 31 by phone from Luxembourg. Following are edited excerpts of their conversation:
What appeals to you about this deal?
The industrial logic. [Arcelor and Mittal Steel] have a shared vision and strategy. It will also increase the liquidity of our stock. The combination would have more than 49% liquidity [free float] vs. just 12% for [Mittal Steel] today. That will definitely be a big improvement. It will be a much larger entity as well.
Would the new company have more stable earnings?
Stability depends on consolidation of the industry. If the industry continues to consolidate, it will be much stronger. [Mittal Steel] will be a growth stock. Since we have announced this transaction, the share prices have improved not only for Mittal Steel and Arcelor, but for the steel industry in general.
Do you think you need to improve corporate governance?
We have said that we will have a majority of independent directors. We will have directors from the various countries [where Arcelor has operations]: France, Spain, and Brazil. We [the Mittal family] will be a minority on the board, and the company will be run by professionals.
Would you give up family control?
We don't want to give up family control. In our view, family-controlled and family-influenced companies have created better shareholder value. Europe is used to having family-controlled and family-influenced companies that have been very successful.
Could you describe Aditya's [Mittal's son, who is president and chief financial officer] contribution?
He has added a lot of value to the company. He has brought new perspectives in terms of growth and strategy. He always thinks out of the box. He has been part of all the mergers and acquisitions, and led a lot of them. He led our initial public offering in 1997.
If you acquire Arcelor, you will have a lot to manage on your plate. Can you handle it?
We want to have a friendly dialogue with Arcelor management. We want to sit down and create one of the strongest management teams. I like and admire what they have been doing. These are two of the best companies in the world. We can create a company 10 years ahead of any other company.
Is there a role for Guy Dollé?
I do not want to preempt discussion.
How is the integration of ISG [the U.S. steel company Mittal acquired from bankruptcy investor Wilbur Ross in 2004] going?
Very well. We have a top-class team, performing well.
Did you cut back production in the U.S. last year?
We did last year. This is part of consolidation. When you are a stronger and larger company, you can afford to modify production based on market demand and supply.
We do not believe in oversupplying the market. When you are a large company, you can afford to do it. When you are a small player, your flexibility gets reduced.
More Specials