Home > Business > Special


How Infosys is growing BIG in China

George Iype | February 07, 2006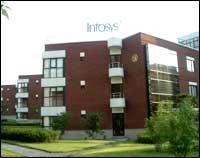 The Chinese Dragon, or Lung, symbolises power and excellence, valour and boldness, heroism and perseverance, nobility and divinity. A dragon overcomes obstacles until success is his. He is energetic, decisive, optimistic, intelligent and ambitious.
Here is how Infosys Technologies, India's information technology giant, is becoming the Chinese Dragon in the IT industry.
In October 2003, Infosys set up a wholly owned subsidiary in China named Infosys Technologies (Shanghai) Co Ltd with an initial capital of $5 million. Today, Infosys's Chinese subsidiary is the company's hub for software services and alternative deliveries in the Asia-Pacific region.
How many techies work at Infy's Shanghai centre? Currently, roughly around 250 people are hired at the company's 20,000 square feet office in the Shanghai Pudong Software Park.
Officials at Infosys say the company has ambitious plans for China. The China plan could result in Infosys setting up the largest development centres outside India.
Towards this end, Infosys is building two brand new hi-tech software centres in Shanghai and Hangzhou. The total investment for the new venture is around $65 million. The company last year signed letters of intent with the Shanghai Zhangjiang (Group) Company Ltd and the Administrative Commission of Hanghzhou Hi-Tech Development Industry Zone-Hangzhou, to set up software development centres in China.
The new centres will see a total investment of $65 million in the next five years and will accommodate 6,000 engineers.
The Shanghai centre, to be built on 25,000 sq meters of land, will get an initial investment of $10 million in the next two years. On the Hangzhou project, Infosys plans to invest $15 million for a centre on 100,000 sq metres of land, in the next two years.
Infosys Hangzhou campus is the first large investment project by a global software company in the Hangzhou Hi-Tech Zone.
Construction for the new projects has already begun. And when completed the new centres will undertake projects in software development, IT services and IT-enabled services, and will also act as one of the training and research centres of the company.
It is not just in building beautiful campuses in China that Infosys is appreciated and respected by the Chinese government.
As and when the new world-class software development centres are built in the Dragon country, Infosys would have trained hundreds of Chinese students in art of software development.
Some 100 undergraduate Chinese students that Infosys selected from leading Chinese universities in the software engineering field are currently undergoing rigorous training at the company's Global Education Centre in Mysore.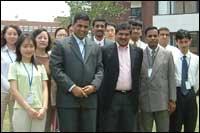 Months back, Infosys signed an agreement with the ministry of education in China to train 100 undergraduate students at its Mysore centre. The internship programme started in September 2005, and it ends in March this year.
The programme involves a three-month intensive training course on interpersonal and technical skills at the Global Education Centre, and a four-month internship at Infosys's development centre in Bangalore. The training programme concludes with students submitting a project report, a case study and taking a comprehensive examination.
Training Chinese students is going to be a continuing process at Infosys.
It looks the bullish pace at which Infosys is going ahead with its China plans, the Infosys campuses in China will be cent per cent localised in some years with the Asia Pacific delivery hub completely managed by Chinese software engineers.
More Specials


What do you think about the story?








Read what others have to say:





Number of User Comments: 2








Sub: Stop chanting Infosys mantra always

I just don't understand why often and again the same Infosys mantra is chanted. Are there no other firms which are making heights? Are there ...


Posted by Mohan Suswaram









Sub: Infosys is digging its own GRAVE ( kabar )

Infosys is digging its own Grave by training the competitor country and its people. tomm. these same people will take the business away from Infosys ...


Posted by vijay






Disclaimer