Advertisement
August 14, 2006 19:15 IST
Last Updated: August 15, 2006 01:21 IST


Indra K Nooyi is all set to lead American cola giant PepsiCo with the board of the food and beverage multinational on Monday electing the 50-year-old corporate wizard as the CEO to succeed Steve Reinemund from October 1, 2006.

Putting a stamp of approval on her 12-year stint with the corporation, the Pepsico Board said in a statement: "We are exceedingly fortunate to have a leader of Indra's calibre, vision and experience to take the helm. She has been instrumental to PepsiCo's solid direction and ongoing success and has the complete endorsement and support of the board."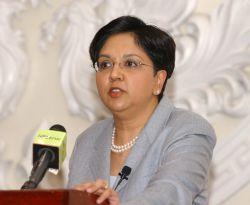 Known to often attend PepsiCo events wearing a sari, Nooyi joined the $33-billion F&B giant in 1994 and has served as president and CFO since 2001, when she was also named to PepsiCo's board of directors.  As the fifth CEO in PepsiCo's 41-year history, she brings vast and unique skills to the job.
Reinemund, who will continue in the corporation as executive chairman and member of the Board till his retirement till May 2007, said, "Indra's record of transforming PepsiCo speaks for itself, and she has been an invaluable partner and ally throughout my time as CEO".
On his part, Reinemund, who has been with PepsiCo for 22 years, described it as "the toughest and easiest decision of my life."
"After 22 years with PepsiCo, more than five of them as chairman and CEO, I have decided that my family is entitled to more time from me than the responsibilities and obligations of continuing as PepsiCo's CEO requires and deserves," he said.
PepsiCo said Nooyi's current responsibilities will be divided between two of the company's veterans. While Richard Goodman, 57, who is currently CFO of PepsiCo International, will assume the position of CFO for the corporation, Hugh F Johnston, 44, currently Senior VP, Transformation, has been promoted to the newly- created position of executive vice president, pperations, and will add global procurement and IT to his responsibilities.
PepsiCo said Nooyi has directed the company's global strategy for over a decade and was the primary architect of its restructuring, including the divestiture of its restaurants into the successful YUM!
Brands, Inc., the spin-off and public offering of company-owned bottling operations into anchor bottler Pepsi Bottling Group, acquiring Tropicana, and the merger with Quaker Oats that brought the vital Quaker and Gatorade businesses to PepsiCo.
Recently, Nooyi has been driving critical cross-business initiatives to enhance operations and enable PepsiCo meet the changing needs of consumers and retailers, the company said.
Speaking on behalf of PepsiCo's board of directors, presiding Director Robert E Allen said: "We have seen first hand the difference that Indra has made on the business and
the people, and we look forward to working even more closely with her to usher in the next generation of dramatic growth and advancement that has been a hallmark of PepsiCo since its founding."
On her part, Nooyi described her elevation as a humbling experience. "I am humbled by the opportunity to lead PepsiCo, and profoundly grateful to follow in the footsteps of Steve Reinemund, Roger Enrico, Wayne Calloway and Don Kendall".
"Steve has steered the company to a strong and enviable position, and he will be a continuing source of wisdom and perspective. I am equally fortunate to have amazing partners, not only on the board and executive team, but in the 1,57,000 bright, talented colleagues around the world who deliver the results every day and are as committed as I am to continue capturing every growth opportunity," Nooyi said.
As CEO, Nooyi's leadership team of direct reports will include the company's division chiefs - Michael D. White, PepsiCo vice chairman and chairman and CEO of PepsiCo
International, who is also a member of the board of directors; Albert P Carey, President and CEO of Frito-Lay North America; John C Compton, President and CEO of Quaker-Tropicana- Gatorade; Thomas Greco, President of PepsiCo Sales; and Dawn Hudson, President and CEO of Pepsi-Cola North America.
In his closing remarks, Reinemund said: "It gives me great pride that this organisation continues to develop the kind of talent that enables the board to continue the unbroken tradition of selecting a strong CEO successor from within the ranks of our leadership, and provides qualified leaders to seamlessly backfill Indra's roles as well.
"I am absolutely confident that PepsiCo's future is in very capable hands, starting with Indra and deep into the organisation. I truly believe she and her team will not only sustain the achievements we have made, but will take PepsiCo to an even higher level of success. I look forward to cheering their continued accomplishments." 
© Copyright 2008 PTI. All rights reserved. Republication or redistribution of PTI content, including by framing or similar means, is expressly prohibited without the prior written consent.