Home > Business > Special


I am proud to be Indian: L N Mittal

Simi Grewal | April 28, 2006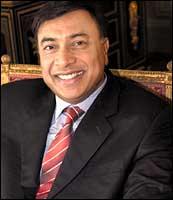 Lakshmi Niwas Mittal is the richest Indian in the world, with an estimated wealth of over $27 billion. Based in London, Mittal still holds an Indian passport and has king-sized ambitions to make his company Mittal Steel a true global behemoth. It does not matter that Mittal Steel is already the world's biggest steel company.
In a rare interview with Simi Grewal at his palatial mansion in London, Mittal opens a little-known side to his personality.
The interview will be aired on television channel Star World, in the programme Rendezvous with Simi Grewal,  on Sunday at 9 30 p.m. (IST).
SG: Lakshmi Niwas Mittal, it's a pleasure to be here.
LNM: Pleasure is mine.
Thank you so much for letting us into your world. Beautiful world.
I'm very happy to see you here in London.
Thank you.
Normally you do all your shootings in Bombay or on, in your studio but I'm very happy and glad that you took all the efforts and trouble to come to London to shoot me.
You moved to Kolkata about the age of 6 or 5.
Yeah, at the age of 6.
Were you pressurized to get good grades or was this something you enjoyed doing?
Yes. My father and my mother would always look at that, that I topped the class.
They would pressurize you?
Yes there would be always pressure. Indirect pressure.
Yeah.
I remember I would tell my father every day during exams how many hours I studied.
Oh, you'd have to?
He would ask me in the evening, 'how many hours you studied after school.' You don't like it though. You don't like it though, so much of pressure. . . but I think in hindsight it was the right thing to do. As a parent still I would do the same for my children. I would expect them to excel in what they were or they are doing or what…
You were studying in a Hindi medium school.
Yes.
And was it difficult to make a transition to an English medium college?
In the beginning, yes.
And you topped that as well! You came first in college as well. . .
Yeah, I got first position in Commerce. . . I used to also attend my, my father's office. So it was. . .
Was there any fun or freedom for you growing up or was it just hard work?
I don't think we ever felt that there was no freedom or anything. I never felt that.
Did you know what was fun?
No, I used to play football, cricket on Sundays. We were allowed to go movies, once a week, if I remember right.
Once a week?
Yeah. The whole family would go to movies. First of all, we come from a middle-class family. Then you are so much focussed and committed to do work and your education. . . as I was. I never thought of going out. So I went to restaurant first time when I was 14 or 15, I remember, in Park Street.
Flurry's?
I think I went to Trinca's.
Trinca's?
First time in my life. It was a great excitement!
LN, were you ambitious? Because you know, today all these young boys have clear life goals and plans. Did you?
I wouldn't say that I was that ambitious when I left India. My father and I have always been great friends. Everyday during lunch, we would sit together, he would tell me his feelings about India. We would discuss how things should change. And I knew that he wanted to do something abroad. He bought a land in Indonesia. And he saw the progress. Not enough progress, (so) he decided to sell the land.
In Indonesia?
I was going on holiday with my friend.
You were going on a holiday. At the age of 25, for the first time you were going abroad.
Yeah.
And it's taken you 30 years and you haven't come back since your holiday! Is that right?
But it's a very funny thing what happened!
What happened?
We decided to go to Bangkok, Singapore, Djakarta, Hong Kong and Tokyo -- an excursion ticket. So my father said when you are in Djakarta, at least go and sell this land. I went there and tried to understand what was the problem. Coming from a business background when you go to any place you want to know how is this country, what's the future, how is the progress. . .
Was, was Indonesia at that time more progressive than India?
It was a very fast growing economy.
And did they have no restrictions like India?
They had no restrictions
So when you arrived, did you smell the scent of success and opportunity.
That's how the whole thing evolved.
Okay.
I felt that it's a good place to do business. Fortunately, I could succeed in solving that particular problem about electricity. That was the main problem. So I called my father and I said, 'I think we should go ahead with this project and I want to stay back.' And we decided not to sell the land.
And then you built a steel mill there.
Yes. I got a lot of help from my father to get it done.
And you stayed 14 years in Indonesia?
Yeah. That was very interesting time, because in India, competition was not there. So you're in a free world.
And soon after that Mexico government approached you for their steel mills. . .
The Mexican government in '91 decided to privatise their steel industry. And they went throughout the world talking to various companies who would be interested in participating in the privatisation process. And when they were talking to the Japanese, the Japanese told them, that the only person, private person, who has worked on this technology is us. That is called Direct Reduced Iron. DRI. That's how they approached us.
And soon after that there was a split in the family. Was this inevitable?
It was inevitable because after working in Trinidad and Mexico, I realised that my future lies outside India, while my father and my brother wanted to expand in India. Of course, their point of view was also right because they foresaw the India much before others have seen it. Now it is a great place to invest in.
But perhaps ten years back, people did not realise that India was a great place to invest in. And I thought that there would be always a conflict in expansion. That's why we split in early '94.
So after that, once you split, you applied the pattern of what happened at Trinidad and Mexico in various other countries in the world with your new acquisitions.
After we acquired Trinidad and Mexico, in '93-'94, I started thinking of growing globally.
Yes.
We acquired a company in Canada, same year we acquired a company in Germany. . .
Germany.
In October, we had an opportunity in Kazakhstan.
But, LN, there must have been a lot of competition. Why did you succeed over the others?
Why did we succeed? We have great team. Without the team you cannot do work.
Why do you still hold an Indian passport?
I love my country and I'm Indian.
But would your business have been easier if you had a European passport?
I don't think so. It doesn't make difference. Now the world is very global and doesn't make difference whether you have Indian passport or you have British passport or you have American passport.
Is it some kind of an umbilical cord you have with India, this passport?
No, I feel very happy and proud to have this passport and my allegiance is to India. . .
Would you have been able to achieve all this if you had continued to live in India? Truly?
Perhaps, it would have been. . . difficult, to be honest. Because, very quickly, at the age of 25, I got exposure to the world. And this helped me to think globally. Now I see that all of my Indian businessmen want to go abroad. They want to be global. And this gives me lot of happiness that at least we led the process and everyone sees the value in doing that.
So if you were 25 today, would you have to leave India to become a Lakshmi Mittal?
No. If I would be 25 today, I don't, wouldn't have to leave India. Things have changed. Now government policies are very positive. They encourage businessmen to go abroad, acquire foreign companies. Things have changed now.
Is there is anything that you would like to see changed in Indian policy?
Speed and execution.
Too slow?
I think it is taking time for everyone to understand the world has changed. We have to move very fast. It's a matter of understanding the dynamics. It's taking time to realise that others are taking over us. It's like we're on the highway . . . either we're on the left side or you're in the center or you're on the right side. So you have to look who's moving fast and you have to catch up. I think we are progressing. The question is can we do better?
More Specials


What do you think about the story?








Read what others have to say:





Number of User Comments: 39








Sub: Think Big

Mr. Mittal is a great exaple of personalities who think big and succeed in life. I wish him all the best for his latest Arcelon ...


Posted by K.V. Rajesh









Sub: Great to be Indian - By LN Mittal

Its been very happy to listen such statement. As india is growing very fast economically, I want to see his investments more in india also.


Posted by ashok









Sub: Book on Mr Mittal's journey to richness

I would request Mr Mittal that he should write a book on details of his life leading him to grow as the most successful enterpreneur. ...


Posted by P.H. Thyagaraju









Sub: LN Mittal story

Story of LN Mittal is very inspiring. we need many more Mittal's to change the face of motherland. bs dhannawat


Posted by bs dhannawat









Sub: I am proud to be an Indian - Mittal

Since long Mr. Mittal had been an inspiration for me being an Indian. Just last week I was talking to my friend mentioning that perhaps ...


Posted by Pradip R. Sonawane






Disclaimer