Home > Business > Special


Volkswagen Phaeton now in India

Shreenand Sadhale | April 22, 2006



Last summer, I was at Bosch's own Boxberg proving grounds in Germany. The nice people from Bosch were intent on showing us some brilliant technologies they had been keeping the patents office busy with. It was a beautiful day and I, along with some fellow motoring journalists, spent the morning trying to look intelligent and grasp what these Germans were on about.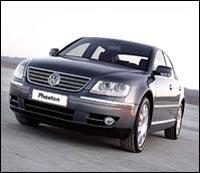 But post-lunch (best of German meats, et al), the day really livened up. You see, the guys from Bosch do really know how motoring journalists truly appreciate and understand technology - by going around a banked oval that has a speed board at the end of it. So in the interest of technology, that's what we did for the rest of the day.

Boy, did I have some fun that day... I mean I learnt a lot, but the collection of cars was as sumptuous as the buffet itself.

Now, the first car that I drove there wasn't too hot. It was a 5-litre TDI V10 Phaeton, but I opted for it partly because I was eager to find out if it was really as good as it was supposed to be and partly because the person who would accompany me with it seemed academically oriented. Okay, she was a blonde.

Anyway, in the interest of technology, I went around the oval as fast as I could and by the end of the fourth left, the speed board read 210 kph. Not bad, since I thought I was doing only half of that speed.

On my second run, I bettered that figure by another 30 kph, but the only thing that told me so was the number on the board (I was too busy to look at the speedo). And that, I guess, sums up the Phaeton.

If luxury means an absence of sensation, the Phaeton fits the bill to a T. Of course, I am not going to stop here. But if you don't want to read about an unashamed barge, you could. For those who wish to continue, first a history lesson.

Spool back to 2002. The then Volkswagen boss, Dr Ferdinand Piech (son of Louise Piech, Dr Ferdinand Porsche's own daughter!) was on a roll. He had just bailed out the company from an almost impossible slump. Now Piech had got Seat, Skoda, Audi, Lamborghini, Bugatti and Bentley under the Volkswagen banner and as a result, a lot of their models overlapped.

Piech wanted his brands to compete with each other, but that resulted in some strange creations. They built a Volkswagen that looked like a Lamborghini (remember that?), set a series of records with it and killed it off. But with the Phaeton, Piech wanted to conquer the final frontier - a Volkswagen that would compete with a Mercedes-Benz S-Class.

Now when Piech came up with a draft for the Phaeton, the task was thought to be as impossible as Pamela Anderson falling flat on her face. In fact, on seeing the brief, some engineers thought it couldn't be done.

For example, Piech wanted the Phaeton (in W12 guise) to cruise at 300 kph in 50 degrees centigrade, while the climate control system chilled the cabin at 20 degrees. He also wanted the Phaeton to have the stiffest body in its class. Apparently, he would test it by attaching a Golf GTi to a three-metre steel pole, bolt that to a Phaeton after which the body would only flex by one degree.

Some engineers thought that Piech had grown too old and that this was yet another of his fancies. 'Nein, nein' they said. However, Piech did get his Phaeton, and you too, without having to go through all that trouble, could get one for yourself.

Sure, you would have to part with the better part of 60 lakh rupees, but then again, we are talking of an engineering marvel here. I mean, the Phaeton really is what Volkswagen does, done all at once.

The Phaeton might look like a stretched version of the earlier generation Passat, but bear in mind that it actually shares its basic underpinnings and mechanicals with the Bentley Continental GT more than with either the Passat or the A8.

That means it gets proper rear-wheel drive, which according to me is the way a luxury car should be driven. The fact that it is pushed rather than pulled gives it a certain sense of dignity and poise while on the move.

So while it isn't much to look at, it certainly has the hardware that's worthy of a true-blue luxury car. And think about it this way. If you wanted to travel undercover and didn't want to attract the paparazzi, would you take this car or a 7 Series?

However, the Phaeton is big and while driving around New Delhi, the enormous VW was certainly attracting a lot of attention for its size. No worries though as I had a 3200cc V6 with 242 bhp on tap helping me keep a majority of the population at bay.

Yeah, yeah, I know what you are thinking. What's a piddly V6 doing in a car like this? Well, you can get your Phaeton with a W12 if you want, but this 31.5 kgm motor isn't too bad either.

In fact, even with a V6, the car felt rather agile and was getting me up to good speeds rather easily. Not that any of my passengers would have noticed the frantic action. The Phaeton felt as luxurious (read disconnected) in Delhi as it did on that banked oval.

Yet, this isn't one of those cars that shrinks around you. The Phaeton gives you the impression of driving a car that's larger than it is while the spread of the V6's power is deeply impressive.

From rest, the Phaeton is said to hit 100 kph in 9 seconds, but your inner ear won't be registering that fact. Once on the way though, the relatively small engine shows its clout rather well.

The five-speed automatic is so surge free and the take-up is so smooth, it's almost like you are travelling in a locomotive. It is amazing how focused the Phaeton is on the task of being a luxury car.

Where a BMW, or even Audi for that matter, have had to model their luxury rides with sporting pretensions, this Volkswagen makes no bones about the fact that it is a plutocratic wafter. Hurry it through a corner, and the chassis will raise an un-amused eyebrow and continue with its single-minded purpose.

On the inside too, it's remarkably quiet, unless the standard 10-speaker stereo is busy belting out its magic. The standard equipment list is epic while the air-conditioning too has a trick up its sleeve and is billed as the world's first draught-free AC. As far safety is concerned, it's a padded cell and quality levels are truly stratospheric.

At the end of it, the Phaeton comes across as a car that's right in the S-Class league. Probably even better. It's big, it's fast, it's built like a bank vault. But as a status symbol, which so often cars at this price need to be, it isn't much.

Then again, the VW badge is exclusive enough in our country while the Phaeton has all things that buyers in this class would want. However, I can't help but think that this car would be complete if it came with an A10 badge and four inter-locked rings on it.

As for the best car at Boxberg that day, without doubt it was the VW Golf GTi.

Powered by
More Specials