Home > Business > Special


Praful Patel: A reformer? Not really

A K Bhattacharya | April 05, 2006



Civil Aviation Minister Praful Patel is quite good at managing the external environment. Consider his image. He is seen by and large as a minister who knows his subject, is efficient and has moved fast on reforming the civil aviation sector. What is the reality? Well, he may know his subject. He may be efficient as well. But on reforms, his track record is certainly not worth emulating.

Patel's media managers, however, have worked hard to highlight the minister's achievements. So, he is seen as a minister who got the foreign direct investment limit in the airlines sector raised from 40 to 49 per cent.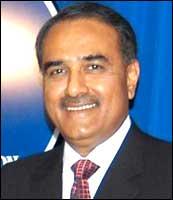 He got the modernisation plans for airports in Delhi and Mumbai approved and work should begin soon with private sector participation. And he is also given credit for facilitating the merger of Sahara Airlines with Jet Airways.
But take a close look at his record, you might get a different impression. The problem with the FDI policy for the airlines sector, when Patel took charge of the ministry, was that even though 40 per cent foreign equity was permitted, no foreign airline was allowed to take a stake directly or indirectly. This was a bit of a puzzle. Why a foreign airline was not allowed a stake in an Indian aviation company defied all economic logic. This was perhaps the only sector where the FDI cap was kept at 40 per cent, but existing foreign players were barred.
So, if Patel had to establish his credentials as a genuine reformer, he should have actually tried to remove the condition that barred foreign airlines from investing in the airlines sector in India.
But Patel avoided that path. For him, too, Jet Airways giving competition to Indian Airlines was permissible, but a foreign airline could not be allowed to compete with the domestic airlines.
This was the same swadeshi logic used by the Vajpayee government. So, the FDI cap was raised to 49 per cent, but the condition barring foreign airlines was retained.
There is no debate on this issue in the country. The fact is that since FDI was permitted in this sector with that condition, not a single proposal has come. So, we have a scenario in which FDI is permitted in the airlines sector, but not a single airline has taken advantage of the new policy after the so-called liberalisation.
Even in respect of NRI investments, which are permitted up to 100 per cent, the civil aviation ministry is dragging its feet. A proposal for a new airline from a Person of Indian Origin is yet to be cleared as the ministry has issued guidelines that require the PIO to be an Indian citizen. These may be technical issues. But the civil aviation ministry's stand has made it clear that Patel is not open to even NRI investments in this sector.
Even in the case of the proposed merger of Sahara Airlines with Jet Airways, the ministry's role has been curious. Initially, there were doubts on whether the merger will allow Jet Airways gain automatic access to the airport infrastructure facilities currently being enjoyed by Sahara Airlines.
Within days of these doubts, the ministry mooted the proposal of a grand merger of Air-India with Indian Airlines. And it was argued that a necessary condition for such a merger to work was that the airport infrastructure facilities being enjoyed by the two state-owned airlines should continue to belong to the merged entity.
After this, there was little doubt that the civil aviation ministry would give its go-ahead to the transfer of Sahara Airlines' airport infrastructure facilities to Jet Airways after their merger. That is exactly what happened.  Note that nobody in the ministry is in a hurry to put in place an independent regulator for the civil aviation sector, who could decide on such issues.
With several private sector airlines in operation, it is necessary that Patel sets up an independent body to regulate the sector, instead of relying on the Directorate General of Civil Aviation, which is only an extension of the civil aviation ministry.
The grand merger of Indian Airlines with Air-India might not actually happen. But questions will continue to be asked if this merger proposal was used by the civil aviation ministry to legitimise the transfer of Sahara Airlines' airport infrastructure facilities to Jet Airways.
Do you want to discuss stock tips? Do you know a hot one? Join the Stock Market Investments Discussion Group
Powered by
More Specials


What do you think about the story?








Read what others have to say:





Number of User Comments: 1








Sub: Another Prespective

After reading the article and learning about the no FDI by foreign arline rule, I can say I was suprised. However I have a another ...


Posted by A Shah






Disclaimer