Advertisement
April 04, 2006
It won't be an exaggeration to say Nimesh Kampani, Chairman, JM Morgan Stanley, knows the Bombay Stock Exchange like the back of his hand. His father Nagindas and uncle Jamnadas Morarjee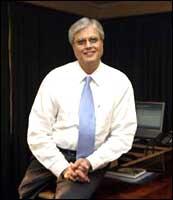 were names to reckon with at the BSE, but Kampani -- the ace merchant banker -- surprises us saying that he has never speculated in the market.

One of the key players in making the BSE the engine of growth for the new Indian economy, Kampani has attained fame over the years for making possible mega acquisitions and mergers. He has come to be known as one of India's foremost votaries of liberalisation.

Nimeshbhai, as he is popularly known, is media-shy and a man of few words. For a change, he agreed to a rare and exclusive interview with Managing Editor (National Affairs) Sheela Bhatt.

In the concluding segment of a three-part interview, the stockmarket legend provides his tips for investors:

Part II: 'India doesn't need FDI'

What was your experience when you became a party to the separation of the Ambani empire?

Majha aavi (I enjoyed it). It was a challenge. It was a very interesting challenge to assess the Ambanis' wealth.
What was the challenge?
The challenge was to manage the two parties. On one side was the mother (Kokilaben) and on the other, there were the two sons (Mukesh and Ani Ambani). It was quite a task to handle them separately and explain to them the situation. Sometimes we needed to speak the truth. I took six months to assess their wealth.
All sides accepted my assessment. But let us not go into it.
Are small investors safe after the break up of the Ambanis?
The small investors are much safer than before. Both (Mukesh and Anil) are hardworking and both will want to grow. They will compete with each other. They have separated their areas of work. Mukesh can't create a new Infocomm again and he may not get a license too. It will take him four years to do so.
The same way, Anil can't create the refinery complex and hence both will work in a manner which will benefit their shareholders.
Mukesh's idea of going into retail makes sense. Sixty per cent of India's GDP ($600 billion) is because of retail businesses.
Are there any hidden risks for small investors?
I don't think small investors will lose in any manner.
How was your experience of working with Dhirubhai Ambani?
Dhirubhai had a one-line philosophy: Let investors earn money. If the investors earn, promoters will earn from their shareholding.
Could you tell us how you play in stock markets? What tips will you like to give to small investors?
Do you want to discuss stock tips? Do you know a hot one? Join the Stock Market Discussion Group.
I have seen five cycles in the stock exchange since 1972. Ups and downs are okay in stocks. Wise people book profit when market goes up. It's bad business to keep papers lying at home when market is going down.
One should never invest in unknown companies during boom times; you must invest in quality companies.
Boom-time investment is more risky; go for quality companies with a future.
Tops and bottoms are for fools. Never invest at top price or at bottom price. Create averages.
Always book some profits because investment is like a chappati on a gas stove. If you don't keep moving, it will get burnt.
Once in a year, reshuffle of investment is desirable.
Diversify your portfolio.
I always believe one should not invest in equity out of borrowed money. I believe we should invest only savings in equity. For if the market crashes, borrowings will remain with a liability of interest on your head.
Don't think in a simplistic manner -- the market may cross 12,000, but it is also possible that it will touch 12,000 after crashing down to 9,000 and then again it will build up.
How do you see the future of the dollar?
Not good. Because the US has a huge fiscal deficit. The Americans are consumers. The real estate bubble is on. People are borrowing money from banks and buying properties. Out of rent money, they are multiplying their businesses in areas where there are risks.
When real estate goes down, the lenders are going to ask for their margins. The savings rate of Americans is nil.
Government spending is too high and it will invest more than $100 billion in Katrina relief. The problem of Iraq is not solved yet and Iran is not showing sign of a peaceful solution either.
I believe a situation will be created when an Asian currency on the lines of euro will be created which in turn will strengthen Asian economies.
Photographs: Jewella C Miranda
More Interviews