Advertisement
April 03, 2006


The task set out for Ravinder Nath Joshi was not an easy one. As finance head of the Delhi Metro Rail Corporation, he had to shell out Rs 17 lakh (Rs 1.7 million) for every metre that the rail route traversed -- and it traversed many thousands of metres. The total bill for the 60-odd km of the Metro is over Rs 10,500 crore* (@ Rs 175 crore per km). That is enough money to purchase 10 full-bodied Boeing 747s.

There are, of course, those who believe the Metro is no less than a plane, albeit a low-cost carrier (just Rs 6 for a short journey) -- and the swanky stations and uniformed service personnel do give the illusion of an airport, actually. Once you walk through the automated gates, heck, it even seems better than most of our crowded airports.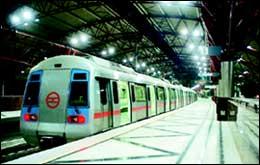 That's the good part of the story of the Metro, which carries 4.5 lakh (Rs 450,000) passengers per day. Not a bad number by itself, but a number that can be blinked away when you juxtapose it with Delhi's total population of 14 million, and growing. The "ridership" -- a term preferred by the Metro men -- is also far below the initial projections made (over 20 lakh -- Rs 2 million -- passengers per day).
Looking at passenger carrying capacities (given that this can go up or down depending on the frequency on which the Metro runs), the current ridership numbers are still less than half of what the Metro is configured for.
"Ridership takes time to stabilise," says an unfazed Joshi. He also cites delayed development projects (some by the Delhi Development Authority) and the lack of feeder buses, which have impacted ridership, pretty severely actually.
Passengers using the Metro make up just about a fifth of the numbers projected initially. There is also the sobering experience of the 16 km Kolkata Metro , where ridership is limited to 10 per cent of capacity.
What if we could swank up the buses, give them a dedicated corridor and graduate them from just providing a feeder service to the core service itself? This is what the Bus Rapid Transit Systems (BRTS) are about, and they are successfully running in emerging countries like Brazil (Curitiba) and Colombia (Bogota).
The sweetener in the BRTS story clearly is the price. At an investment of Rs 10-15 crore (Rs 100-150 million) for every kilometre (a tenth of the Metro's cost), the roads and aesthetics of road transport in Delhi could be totally refurbished.
"BRTS brings the underground overground," says Nasser Munjee, former managing director and CEO of infrastructure financing company IDFC [Get Quote] who had pushed for a "simpler cost-effective solution" (read high speed bus system) during his stint there. It would also touch more Delhiites than the 3-odd per cent that the Metro has managed.
Munjee is not the only one rooting for BRTS. IIT Delhi's well-known professor Dinesh Mohan, who leads the institute's Transportation Research and Injury Prevention Programme (TRIPP), is another. The khadi-clad academician brushes aside the Metro as an "expensive mistake", citing its poor ridership numbers.
According to his research, metros work in cities with one central business district, which takes in a large number of people in the morning and spews them out at the day's end.
Typical examples -- New York, Tokyo, London. "Delhi has multiple business districts and is not suited to a metro system," he says, punching holes in the business case for the Metro.
He is also miffed at the blind eye that transport planners have turned to the profile of the city's -- and the country's -- commuters. "Fifty per cent of the people in the city walk or bicycle to work. We don't talk about them at all," he laments. (And rightly so. Try being a pedestrian one day and see if you can cross a busy road.)
Another argument that he puts forth in support of the BRTS is the cost of travel. Since a significant segment of the population is using two-wheelers that run at less than Re 1 per km, a good public transport system will have to be competitive with this rate to wean them away from their own transport. "Can the capital-intensive Metro do this?" he asks.
Basic economics is also a reason for the problem of poor usage being faced by the Kolkata Metro. Subsidised transport (read trams) eats into traffic that could have gone the Metro way.
"In Kolkata, people choose what suits their pocket -- the cheapest, most subsidised means of transport," says Jayesh Desai, head of the infrastructure group at Ernst & Young.
The professor has chalked out a plan (see graphic) which divides Delhi's roads to give exclusive way to non-motorised vehicles, buses and motorised vehicles.
The first leg of the 18-km stretch from Ambedkar Nagar to ISBT should be coming up shortly, if Joshi and his colleagues at Delhi Metro don't butt in.
Joshi may not have impressive numbers as far as passengers are concerned, but he is making operating profits. Ticket collections for 2005-06 are Rs 110 crore, and these are projected to more than double to Rs 250 crore by the end of next year, even though no new track will come up during this period.
That is not bad at all. And when you are being toasted by the whole city (and every other VIP from overseas), it is the perfect time to gun for the whole city. Actually, within 500 metres of the residence of every Delhiite, as per the gritty managing director of Metro Rail, E Sreedharan.
The argument for extending the Metro network is similar to that of the phone network. More lines equal more usage. And Delhi has proved that it can be cost-effective in construction (Rs 175 crore per km vs Rs 250 crore for the upcoming Dubai Metro). And why not plan for the future? "A city of this size (and growing) cannot be managed by anything other than the Metro, at least on the main arterial routes," says Akhileshwar Sahay, president-transport at infrastructure consultancy Feedback Ventures.
He also makes a case for a Metro in other congested cities like Mumbai, Bangalore and Hyderabad. Delhi's neighbouring states have put in requests to link the Metro with satellite towns Gurgaon and Noida. Apparently, moneybags are waiting for investment opportunities in this sector. "It is a myth that money is a constraint," says Sahay.
It is also presumed that money would not be such a constraint if Metro projects can be taken up under the much-touted public-private partnership (PPP) umbrella. PPP projects typically take in private money to deliver a public good. The government's financial exposure to such projects is limited to viability gap funding.
However, with large projects like the Metro, the viability gap funding tends to make huge demands on the state exchequer. Take the proposed 15 km Mumbai Metro (Versova-Andheri-Ghatkopar), where the viability gap funding is likely to be more than Rs 1,000 crore.
At the end of the day, the choice of best transport for a city is decided by the state government, taking into account its financial standing (what capital subsidy and ticket subsidy support it can provide), and by its allocation priorities (whether it prefers to fund transport, hospitals or schools). "It is a hugely political question," agrees IDFC's director Anupam Srivastava.
A thought which reverberates somewhat in Joshi's third floor cabin at Lodhi Road's NBCC Place. "This is a social project," he declares nonchalantly. Metro projects around the world are "not" constructed on a financial returns basis, he informs, but the economic rate of return (which factors in the public benefit of a project).
So let's admit it. There are social benefits to such projects. There are also more smiling faces in the Metro than you can ever dream of on the congested roads of Delhi, where the city's denizens glare at each other as they try to grab road space. But it is also true that there could be another transport solution which would make travellers equally, if not more, comfortable.
"Why can't we allow an alternate experiment to be tried?"asks Munjee. A few moments later he mumbles the answer to the question -- an answer we are all aware of. "Everyone loves big contracts. They can cream big contracts," he says. Words of truth which are rarely uttered.
Not that the state government has no plans to try out other systems. A few days ago, the minister of state for urban development, Ajay Maken, informed the lower house of Parliament that the Delhi government has planned a public transport network that includes the 115 km of the Metro, a 294 km corridor for a high capacity bus system, 74 km of elevated light rail transit system, and 48 km of elevated monorail. This is to be implemented over the next 15 years.
The apprehension among some quarters is that the successful run of the Metro could end up cannibalising the other options. That should not happen. Remember, the Metro costs a bomb -- or rather, a few planes. Let's try a fancy bus ride instead.
---
The metro sequel: lower costs, lower fares
The next Metro line in the city will be 10-15 per cent cheaper than the Rs 175 crore per km that it averaged in Phase I (Rs 110 crore per km overground and Rs 280 crore per km underground) through a conscious policy of "indigenisation" being followed by Delhi Metro.
Add the efficiency gains that will come from doing things the second time around, and one can expect that to reflect somewhat at the ticket counter in the form of lower-priced tickets.
For other cities opting for the Metro, the cost is likely to be lower than Delhi simply because land acquisition will be cheaper in aspiring metros and tier II cities.
Good points, but somebody still needs to answer the moot question: Is the Metro essential, or can a high capacity bus fleet deliver better returns?
* 1 crore = 10 million; 100 crore = 1 billion
Metro Muddles
"We are very apprehensive about high capacity bus systems. After 10-15 years, there will be chaos"
C B K Rao, director, projects and planning, Delhi Metro Rail Corporation
"The Metro has established itself well financially, technically and managerially. We should allow it to extend its routes"
Vinayak Chatterjee, chairman, Feedback Ventures
"Buses would have better impact on traffic management. Why can't we allow an alternate system to be tried?"
Nasser Munjee, former managing director & CEO, IDFC
"A city of this size cannot be managed by anything other than a good Metro"
Akhileshwar Sahay, president-transportation, Feedback Ventures
"The choice of public transport is a hugely political question. It depends on the state government's finances, and the subsidy support that it can provide"
Anupam Srivastava, director, IDFC
"The Delhi Metro is a social project"
Ravinder Nath Joshi, finance director, Delhi Metro Rail Corporation
"In cities like Bangalore, it is impossible to run anything other than the Metro. Roads cannot take the load"
Jayesh Desai, head, infrastructure group, Ernst & Young
Do you want to discuss stock tips? Do you know a hot one? Join the Stock Market Discussion Group
Powered by
More Specials