September 22, 2005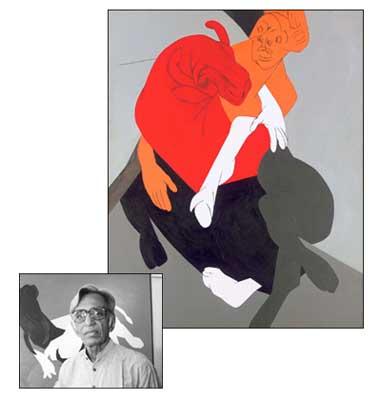 Indian artist Tyeb Mehta set a new record when his painting Mahishasura was bought by a private collector of Indian origin for a whopping $1.584 million at a Christie's auction in New York on Wednesday.
The collector, who lives in the United States, bid over the telephone to bag the painting. This is the highest-ever amount to be paid for a piece of contemporary Indian art.
The purchase price was far in excess of the pre-sale estimate of $600,000 to $800,000 for Mehta's painting.
The price also eclipsed the previous record for an Indian artwork set on Tuesday at Sotheby's Indian sale, when $396,800 was paid for Ram Kumar's painting Untitled.
Christie's said in a statement that this the first time that a contemporary Indian painting fetched more than $1 million.
Mumbai-based 80-year-old Mehta's Mahishasura is said to be a work in karmic origami depicting the Hindu tale Goddess Durga slaying the demon Mahishasura. But Mehta has depicted Mahishasura a sympathetic figure embracing the goddess symbolising the demon's transformation after uniting with the divine.
Mehta is part of the Progressive Artists Group which draws inspiration from European masters but interprets Indian themes. He is said to be a very meticulous artist and is not as prolific as Indian master M F Husain.
Christie's, the world's leading art auction house, is also planning to reopen its Mumbai office and has named Ganieve Grewal as its permanent representative in India.
Christie's had opened its Mumbai office in 1995, but closed it down last year.
(Above) Tyeb Mehta's Mahishasura. (Inset) Tyeb Mehta