Home > Business > Special


Kumar Mangalam: The biggest Birla

Kausik Datta | September 19, 2005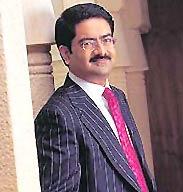 In the decade since he found himself in his father's large shoes, Kumar Mangalam Birla has forged a career that could make him the biggest Birla of them all.
When his father, Aditya Vikram Birla, died of prostrate cancer 10 years back, very few people thought this shy and obsessively low-profile young son would be able to take over from his father.
Today, when Kumar Mangalam Birla, 38, talks about his dream of the Aditya Birla Group entering the Fortune 500 league, the world sits up and listens. Consider the figures: the turnover of the group, which has 16 companies and joint ventures in India and 22 separate international companies, mostly in South-east Asia, was worth Rs 15,000 crore (Rs 150 billion) in 1995.
It has more than doubled to Rs 33,000 crore (Rs 330 billion) today, with a market capitalisation of Rs 30,000 crore (Rs 300 billion). The journey has been long and in the process, Birla has razed many ancient financial practices and power centres within the group.
His doting grandparents Basant Kumar and Sarla Devi were always convinced that he was destined to succeed. Sarla Devi has an interesting story to tell: The Birlas organised a religious conclave attended by 180 religious leaders in Kolkata when the young Birla was only three and a half years old.
Present at the conclave was a Muslim religious leader from Sri Lanka who wrote a letter to BK making two forecasts - that his grandson would be seriously ill at the age of seven, but would be Birla number one eventually.
Kumar Manglam Birla did suffer from meningitis when he was seven, so Sarla Devi says she saw no reason why the second forecast wouldn't be correct as well.
And well it may, considering the scorching pace Birla has set for his group, shaping and reshaping his companies relentlessly. The result?
The group is today the world number one in viscose staple fibre; the world's largest single-location palm oil producer; Asia's largest integrated aluminium producer; a globally competitive, fast-growing copper producer; the world's third-largest producer of insulators; globally the fourth-largest producer of carbon black; the world's eighth-largest producer of cement and the largest in a single geography; India's premier branded garments player; among India's most energy efficient private sector fertiliser plants; India's second-largest producer of viscose filament yarn; the number two private sector insurance company and the fourth-largest asset management company in India.
"Our focus is to attain the leadership position in every business we are into. That is to be done through capacity expansion and cost reduction. Every business has been categorised according to the geographical leadership roles they can play and the focus is very much on profitability and growth rather than size or footprint," says D D Rathi, wholetime director and CFO of Grasim Industries.
On capacity expansion, the group is going to spend Rs 26,000 crore (Rs 260 billion) on Grasim in the next two years. Grasim has a 23 per cent share of the viscose stable fibre market and is the most profitable such company in the world.
"The aim is to reinforce the company's edge in the cellulosic man-made fibre sector through fully integrated operations, virtually from the forest-to-fabric," he says. In cement, Grasim, along with its subsidiary UltraTech, is the world's eighth-largest player.
Hindalco's alumina capacity is being raised from 350,000 tonnes per annum to 650,000 tpa and its high-value special alumina is being ramped up from 91,000 tpa to 167,000 tpa. The company is augmenting the power generation capacity from 67.5MW to 317.5 MW.
With the completion of the copper capacity from 250,000 tpa to 500,000 tpa, Hindalco will be among the top 10 copper producers in the world. It will also elevate Birla Copper, the copper arm of Hindalco, to the world's single largest copper smelter in one location.
Indian Rayon is focussing more on high growth businesses, says Birla. Indian Rayon, which is being renamed Aditya Birla Nuvo, has been deploying cash from its value businesses - viscose filament yarn, carbon black, textiles and insulators - into high growth businesses, namely garments, insurance, IT\ITeS and telecom.
Over the past five years, the company has recorded cumulative cash flows of Rs 764 crore (Rs 7.64 billion) from value businesses and deployed Rs 793 crore (Rs 7.93 billion) in high growth areas. Aditya Birla Nuvo aims to expand its high growth businesses in the near future.
For example, Madura Garments intends to transform itself into a lifestyle brand, a strategic tie-up with global brands is on the cards, and it aims to double retail space in three years. Transworks, the BPO division, wants to build scale and diversify. Aditya Birla Nuvo intends to enter pension funds and banks, if it is allowed to.
At the same same time, the group is focusing heavily on cost reduction. "The cost reduction exercise differs from company to company, from one plant to another," adds Rathi. If you take cement, for instance, he says, the initiative is three-pronged -- reduce cost for power generation, consumption of coal, and transportation.
Does that mean consolidation within the group is over? "This is a continuous process. At the moment, we are more focused on expansion," says Rathi. Industry sources say UltraTech Cements and Shree Digvijay Cements, a privately held company of the group, may be merged with Grasim.
Birla, however, is not forthcoming on his plans: "UltraTech is a subsidiary of Grasim. Therefore, you can say that the cement business is being managed by Grasim. It's premature to say whether we will merge these companies."
Industry sources also say the textiles business will be brought under one umbrella. That may not happen very soon. A merchant banker says Birla will do this after he takes charge of Century Textiles and Century Enka, whenever that is.
Birla himself does not like to talk about the issue as his grandfather manages them now. BK says, "Kumar Mangalam insists I continue. He will take charge as and when he finds time."
BK feels the most important reason for Birla's success is his education, which has taught him to think big. After returning from London, where he did his MBA, Birla was given charge of new projects -- such as a carbon black plant in Egypt, existing businesses like Indo Gulf Fertilisers, running Grasim's portfolio cement division, and HR.
"Kumar Mangalam's working model is completely different from his father's. Kumar Mangalam believes in delegation of power. His style is more group-oriented," BK says.
But even his grandfather was surprised by the speed with which Birla broke down all barriers in his quest for success. First, he started building a team. "We have a policy of not recruiting people from outside. He changed it," BK says, adding that Birla let 350 vice-presidents, who were over 60 years old, go at one shot -- unheard of in those days at the Birla empire.
He created a new team and put HR systems in place by roping in Santrupt Misra from Hindustan Lever in 1996. Then followed Bharat Singh (1996), Debu Bhattacharya (1998), Sanjeev Aga (1998) and Sumant Sinha (2002). This removed at one shot the impression that those who were not sure of finding a suitable job outside join the Birla companies.
The next thing he did was to replace the partha system of daily financial reporting with an economic value-added model. Partha was a manual system to determine input costs and the daily cash profits as compared to budgeted profits.
Ghanshyam Das Birla had developed the system of accountability based on partha, in which each company in the group had to draw up a series of informed estimates of how much it would cost to manufacture a particular volume of production, sell it and meet a profit target based on this estimate.
The amount of capital it takes to support the manufacturing was also taken into account. This has been replaced with a cash value added method that emphasises three aspects: profitability, asset productivity and growth.
No one today doubts Birla's ability to expand his empire even though concerns remain about what some say could be an uncertain line of reporting and accountability.
At the top sits Kumar Manglam Birla, and despite the delegation of authority, people still prefer to wait for "Babu's" orders directly. Changing this mindset is clearly Birla's biggest challenge now.
The grand plan

Highlights of Kumar Mangalam Birla's journey, starting from the present
2005

Indo Gulf and Birla Global merge with Indian Rayon to form Aditya Birla Nuvo
Aditya Birla Group to set up a world-class aluminium project in Orissa
The Aditya Birla Group signs a framework agreement to acquire St Anne Nackawic Pulp Mill, Canada
2004
Completion of the implementation process to demerge the cement business of L&T and completion of open offer by Grasim, with the latter acquiring controlling stake in the newly formed company UltraTech
Indal merged with Hindalco
Indian Rayon completes its brownfield expansion of 40,000 tpa at Hi-Tech Carbon, Gummidipundi, taking total capacity to 160,000 tpa

2003
The Group acquires Mount Gordon Copper mines in Australia
Liaoning Birla Carbon, the Group's first carbon black company in China, is incorporated
Indian Rayon acquires TransWorks, a leading Indian ITES/BPO company
The L&T board decides to demerge its cement business into a separate cement company (CemCo), in which L&T retains 20 per cent of its equity with the balance distributed to shareholders in proportion to their shareholding in L&T. As a consequence, Grasim acquires 8.5 per cent equity stake from L&T and then makes an open offer for 30 per cent of the equity of CemCo, to acquire management control of CemCo
The Group divests its entire 37.38 per cent equity stake in Mangalore Refineries and Petrochemicals Ltd (MRPL) to the Oil and Natural Gas Corporation (ONGC)
Birla Copper acquires Nifty Copper Mines in Australia
Indian Rayon launches its insulators joint venture with NGK Insulators, Japan
2002
The Grasim board approves an open offer for purchase of up to 20 per cent of the equity of L&T.
Grasim increases stake in L&T to 14.15 per cent (351.84 lakh shares).
Corporate restructuring of Hindalco and Indo Gulf. The fertiliser business of Indo Gulf demerged into a separate company called Indo Gulf Fertilisers. Indo Gulf's copper business merged with Hindalco, creating a non-ferrous metals powerhouse.
Grasim divests its Gwalior unit to Melodeon Exports, and consolidates textile operations at a single location in Bhiwani, MP, to manufacture both Grasim and Graviera brands.
PSI Data Systems acquires Birla Technologie, bringing the group IT services business under one umbrella.
Indal acquires a controlling stake in Anapurna Foils Ltd (AFL), to augment its position in the foil and packaging sectors. Subsequently AFL is merged with Indal.
2001
Grasim acquires 2.50 crore shares - representing just over 10 per cent of the equity - in L&T from Reliance Industries.
Birla Consultancy & Software Services spun off; becomes a separate entity called Birla Technologies.
Indian Rayon acquires a stake in PSI Data Systems.
Grasim closes its pulp plant at Mavoor.
2000
Indian Rayon acquires Madura Garments.
The Group forays into e-business through a strategic alliance of its software arm, Birla Software and Consultancy Services (BCSS), with Lawson Software, USA.
Gyanodaya, the Institute of Management Learning of the Adiya Birla Group, is inaugurated.
Hindalco acquires Indal. The Indal board is reconstituted. Kumar Mangalam Birla becomes Indal's new chairman. The Group holding goes up to 74.6 per cent, and further increases to 96 per cent in FY'03.
The Insurance Regulatory Development Authority (IRDA) grants registration in principle to Birla Sun Life Insurance Company. Indian Rayon acquires major world rights for international apparel brands Louis Philippe, Allen Solly and Peter England.
The Group announces its intention to launch a 450 MW green power project in Karnataka.
The merger of Birla AT&T and Tata Cellular is completed.
1999
A joint venture with financial services major Sun Life of Canada is inked.

1998
The Group forms a 50:50 joint venture company with Tembec Inc of Canada to supply pulp for its VSF operations.
Grasim acquires Dharani Cement and Shree Digvijay Cement.
The cement businesses of Indian Rayon and Grasim are consolidated into a single division of Grasim - the biggest restructuring ever by any corporate entity in India.
The Group forays into copper with the commissioning of Indo Gulf's copper smelter.
Thai Organic Chemicals begins commercial operations of chlor-alkali and epichlorohydrin
1996
A new corporate logo - Aditya, the rising sun - is launched.
All group companies are consolidated under the umbrella of the Aditya Birla Group.
P T Indo Liberty Textiles is incorporated to manufacture yarn in Indonesia.
1995
The Group enters the telecommunications sector through a joint venture with AT&T
Thai Sulphites & Chemicals is incorporated to manufacture sodium sulphite and sodium metabisulphite
Source: Aditya Birla Group
Powered by
More Specials


What do you think about the story?








Read what others have to say:





Number of User Comments: 5








Sub: Why behind Tata & Reliance group

I want to know why Birla group still long behind Tatas and Ambanis. Tata group mkt cap around 125000 Cr and Reliance abour 1 lac ...


Posted by Yogesh









Sub: Wishes

Res Rediffmail, I get more information form this. My best wishes to all successs... o.k.


Posted by b.g.bhapkat









Sub: Profiles like M.K.Birla

You should always give e-mail addresses of such personalities/companies so that they would be open to NRIs interested in doing business/investing or offering avaialblity-pertaining to ...


Posted by Raj-K.Handa









Sub: correction

in 4th point of year 2002 its stated that bhiwani town is in MP, but its in haryana 100 km east of delhi. considering rediff's ...


Posted by ankit









Sub: Alls not Rosy!!

The Partha system still continues in the group;its a hogwash to believe that its no longer there.Also, inspite of the entry of professionals into this ...


Posted by karishma






Disclaimer