Home > Business > Special


'JRD has been an icon for me'

Azim Premji | September 01, 2005



Few people have made such an enormous impact as Jehangir Ratanji Dadabhoy Tata on the economic and social fabric of India. He preferred to be addressed as JRD, which not only symbolised his inner humility but also his love for being simple and uncomplicated.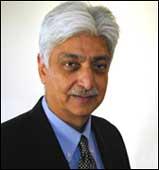 Some people follow the beaten path. Few take the road less travelled. Yet others choose to create their own path. In the case of JRD, the path became a runway not only because of his love for flying, but also because of the cockpit vision of the world he carried.
Yet, his feet were always on the ground. That is why he left so many footprints of inspiration for others to follow. It will be impossible to cover all of them. I can only dwell on those few that have made a significant impact on my own thinking.
JRD has been an icon for me, like many other people of my generation.
The first quality I really admired in JRD was his ability to manage a very complex business portfolio with a rare clarity of mind. The Tatas were into many businesses, some of them unconventional -- including airlines, hotels, trucks, locomotives, soda ash, heavy chemicals, pharmaceuticals, financial services, tea, air conditioning, lipsticks, cologne…
JRD strengthened existing businesses such as steel, power and hotels. He also exited a few businesses. But JRD always dreamt big. He always looked beyond the national border, while many Indian entrepreneurs allowed themselves to be encircled by it.
This helped JRD place not only the Tata group but also the Indian industry on to the international map.
The second quality I admired in him was his obsession with quality. The only thing that triggered his short temper was carelessness of others. He stressed, "If you want excellence, you must aim at perfection. I know that aiming at perfection has its drawbacks. It makes you go into detail that you can avoid. It takes a lot of energy out of you but that's the only way you finally actually achieve excellence. So, in that sense, being finicky is essential."
The third quality I admired was his ability to mange different kinds of individuals according to their ways and characteristics. He relied a lot on self discipline, including the need to suppress oneself when required. He created the right environment for the people from diverse backgrounds to grow within the group.
Since there was a continual shortage of mangers, JRD was pro-active when it came to developing future leaders. JRD was fascinated by the functioning of the civil services, where exceptional talent could be spotted early and then groomed in a systematic manner.
He formed the Tata Administrative Service and then the Tata Management Training Centre at Pune. This commitment to professionalism served the group well. In 1971, for example, when the coal industry was nationalised, Mohan Kumaramangalam, the then industry minister, left Tata Steel's coal mines untouched on the ground that these efficiently run mines would provide a model for the nationalised mines.
JRD was equally proactive when it came to other people issues. He realised that if people were treated exceptionally well they would do exceptional things for the organisation. Many of JRD's achievements were possible because of the active support of his workforce.
The Tatas have always pioneered people practices which were miles ahead of government legislation. For example, Tata Steel set up provident fund in 1920 which was not legislated till 1952.
JRD was a life-long learner. I remember reading in one of the books about him that at the age of 80, he was not only on top of his job but also used one extra hour he had created just to learn Hindustani! He was always eager to add to his learning, no matter whether it was immediately useful to him or not.
Without doubt, JRD was a unique transformational leader, who transformed himself, the businesses he managed but also participated in social transformation. Looking ahead, we need many more transformational leaders.
As a country we are on the threshold of a unique opportunity. To manage this opportunity, we need to understand what will drive the changes in the future and how we need to manage them.
There are three kinds of drivers with varying amplitude and different time horizons, which I feel will dictate the future of economy and business. The first are the short term or immediate drivers. These are primarily various kinds of arbitrage opportunities that exist across various national economies and regions.
Remember the growth experience of the Indian software industry. The salary differential among software professionals between US and India was a great arbitrage opportunity on which initial success of the industry was built.
Similar opportunity has arisen today in the BPO industry and in pharmaceutical and biotechnology research. Salary or wage differential is just one kind of arbitrage opportunity. But arbitrage opportunities do not last forever.
In medium term, technological possibilities and changes in geo-political scenario will be the major economic drivers. These need to be looked into by built to last firms for strategic planning. But the sweep of these drivers is much broader.
Unlike short-term drivers, these do not provide quick opportunities for gains and require a lot of sweat and labour. In the long run, however, they are worth the trouble. All leapfrog economic gains come from these drivers.
The Indian IT industry is a case in point. The immediate gains came in from the exit of IBM by manufacturing indigenous minicomputers. By converting the software and R&D expertise into solutions and services for the global market, it became a more long term advantage.
Every great global company was built by leveraging on these drivers including GE, Microsoft, IBM or Ford. If you understand them, you can shape the rules of the game rather than being ruled by them.
Medium drivers are built on more solid foundation than tactical advantages. In countries like India and China, we have a greater availability of engineers and masters degree holders in science and engineering. These are higher end competencies that cannot be easily replicated. They will give these countries a definite "differential" over the medium term.
The last set comprises long-term drivers, whose impact may not be felt in day-to-day business. But they are so pervasive that they impact every facet of human life. These require collaborative action by society. These drivers are of the order of globalisation or environmental sustainability.
For example, take the case of demographic shifts currently undergoing in developed parts of the world. In the entire history of human civilisation, we haven't witnessed a situation where old people outnumbered youngsters. In countries like India, the exact opposite is true with a much larger younger population. This is a source of enormous strength for our India in its drive for economic transformation.
Coming to social transformation, there are many complex issues that confront a country like ours. I have looked at just five of these issues because I think they have a far reaching impact.
I am convinced that the first priority is primary education. At Azim Premji Foundation, our key drive is towards universalisation of primary education. We have 3.9 crore out of 19.2 crore children in the age group 6-14 who are out of the school. Education helps people make informed choices, and enhances their access to opportunities.
The second issue is primary healthcare. Our infant mortality rate is 70 per thousand compared to less than 10 per thousand in the developed world. This level of morbidity, combined with illiteracy, deprives millions of our people from benefiting from the economic opportunities.
Third, we need to overhaul our land related laws, taxation and information systems. It is estimated that 90 per cent of land in India are subject to legal disputes over ownership. Stamp duty ranges between 8-15 per cent of the property value, encouraging avoidance.
On the other hand, property tax rates are low and collection is inefficient. All this has led to Indian land prices being the highest among the Asian nations relative to average incomes, and low tax collection is hampering our ability to maintain urban infrastructure.
Effective land reforms can really boost housing and retail sectors, two of the largest sectors of the economy outside of agriculture, and generate huge employment opportunities.
Fourth, we must focus on the power situation. Power sector is by far the biggest resource drain on the economy. We need to eliminate power thefts/leaks and improve efficiency of generation, distribution and transmission. These changes can have a major impact on the fiscal deficit of the states, apart from bringing down the cost of doing business in India. The first investment we make before opening up any facility in the country is a generator!
Fifth, water scarcity is being felt across the country. Less than 40 per cent of cultivable land is under assured irrigation. Underground water table is declining at the rate of 5 per cent every year. In the medium term, water shortage will create a significant barrier to growth -- whether agriculture, industry or urban infrastructure. It is important that we push ahead with innovative projects like interlinking of the rivers.
The best tribute one can give to a person like JRD is not just remembering him but by building on the foundation he created. For some people like JRD, a lifetime is just too short. But his dreams live on forever. Let us all join hands in the journey of transforming our nation.
Azim Premji, Chairman of Wipro Corporation delivered the JRD Tata Memorial Lecture at the Association Chambers of Commerce and Industry in New Delhi on August 30, 2005.
More Specials


What do you think about the story?








Read what others have to say:





Number of User Comments: 18








Sub: we need visionaries than mere executives

I agree with the philosophy of Mr. Azim Premji about drivers of development of a nation. His critical assessment of five key areas of concern, ...


Posted by Dillip Kumar Das









Sub: creates own path

JRD & Azim Premji are true icons of india. Highly impressed


Posted by Lavani









Sub: Azim Premji on JRD

Premji,s speech on JRD proves that by following the ideals of JRD he himself has become a beacon for others to follow. It also gives ...


Posted by Preetam Mohanty









Sub: JRD is an icon for me also

Respected Sir(Azim Premji) speech was inspiring,for me both JRD & Azim both are icons. Everybody can become a gentlemen,but not all can be a Greatmen. ...


Posted by sabari









Sub: JRD TATA

dear sir, JRD TATA an icon for me lecture given by azim premji is appreciable and the points given about JRD giving some inspiration to ...


Posted by T.Adhinarayanan






Disclaimer