Home > Business > Special


George Iype in Kochi | October 26, 2005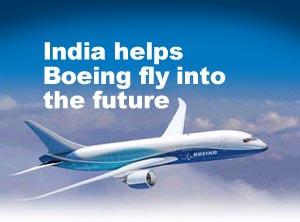 In one more example of the world's discovery of India as the place for cutting edge technology development, most of the designs for building Boeing's next generation aircraft are going to be created and tested by the Indian Institute of Science, Bangalore.
IISc, India's premier scientific research institute, has joined hands with Boeing, the leading American manufacturer of satellites, commercial jetliners, and military aircraft, to build next generation aircraft.
Nearly 40 faculty members from various IISc departments -- like aerospace, metallurgy, centre for product design and manufacturing and civil engineering -- are involved in the Boeing project, which is being managed by the Society for Innovation and Development. SID is IISc's commercial arm, which was founded more than a decade ago.
SID undertakes research and development projects based on individual or joint proposals from IISc faculty and scientists, in collaboration with national and international organisations and business houses.
SID Chief Executive S Mohan said Boeing signed a memorandum of understanding with the Institute earlier this year.
"IISc is the only Asian institution that Boeing has tied up with for research and transfer of technology," Mohan told rediff.com
Boeing's other global partners in research include Carnegie Mellon, Stanford Engineering, Massachusetts Institute of Technology, Caltech, University of Illinois at Urbana Champaign and University of Cambridge.
The IISc-Boeing tie-up says the aerospace major would invest $50,00,000 in research every year for the next five years in the company's projects with the Institute.
"We have identified nine projects in which we will work with Boeing to build next generation aircraft," Mohan said.
To build these new planes, the IISc team has proposed the use of smart structures and the application of lightweight components like nano materials, alloys and their composites.
IISc's areas of focus include developing flaps for the aircraft that are fitted with smart sensors -- so that they can direct wind currents better -- and use of aluminium alloys in high temperature areas as well as in landing gear boxes.
The designs will be tested in a virtual environment being developed at the Institute.
"The Boeing project involves lots of innovative research. It is going to be interesting and very challenging," a researcher involved with the project said.
SID will enable innovations in science and technology by helping industries and business establishments compete and prosper in the face of global competition, turbulent market conditions and fast moving technologies, Mohan said.
The Boeing project is one of SID's many ongoing ones.
IISc launched SID with just one project in the year 1994, and a total financial outlay of Rs 2,25,000. Till date, SID has generated approximately Rs 600 million worth of research projects.
Some of SID's successful projects have been:
Development of a software tool for performance evaluation of ATM switches

 

Development of a 2.7 MW thermal gasifier system

 

Development of dynamic surface force apparatus

 

Development of high voltage power supplies for airborne application

 

High speed oxygen sputtering system

 

Initiation of umbrella R&D programmes with organisations like Nokia, General Motors, Honeywell
Design: Dominic Xavier
More Specials


What do you think about the story?








Read what others have to say:





Number of User Comments: 1








Sub: India helps Boeing See Future

My Foot!!! If that is the case then I would rather see IIS help HAL see future which is in it's own backyard.


Posted by Rambabu Potluri






Disclaimer