October 24, 2005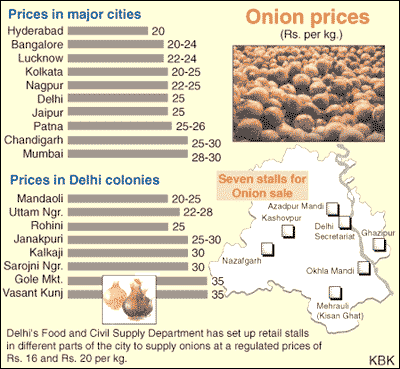 Concerned over skyrocketing prices of onion due to supply scare in the market, government on Monday decided to import onions from China and Pakistan to tide over the crisis.
"We have contracted import of 2,000 tonnes of onions from China and 650 tonnes from Pakistan and the overall prices of the commodity will stabilise soon," Alok Ranjan, managing director, National Agriculture Cooperative Marketing Federation of India Ltd (NAFED), said.
"The consignment from Pakistan will reach Delhi market in a week, while the Chinese consignment would hit the Mumbai port within two weeks," Ranjan said.
He said the wholesale prices are already coming down and it would stabilise in a day or two in the capital.
"Onion prices are going to stabilise soon and the overall supply situation would get a boost due to imports from Pakistan and China within next two weeks," Ranjan said.
He said supply situation was improving with fresh arrivals from Rajasthan, leading to a fall in wholesale prices of the commodity.
The wholesale prices have fallen from Rs 1,315 per quintal last week to Rs 1,185 per quintal.
At Azadapur mandi, the main market for National Capital Region, nearly 8,800 quintal arrived on Monday from the neighbouring desert state.
"The arrivals from Rajasthan has been feeding the capital market so far during October," Ranjan said, hoping that the arrivals would be in the range of 13,000 to 14,000 quintals by next week.
Currently, NAFED is buying 100 tonnes of onion from Rajasthan to be supplied at Kendriya Bhandar and Mother Dairy outlets in the capital.
On the overall national price scenario, Ranjan said: "There is no supply shortage in the country except in some areas of Maharashtra, where crops have got damaged due to rains."
The late kharif crop arrivals will, however, make up for the initial damage, he said.
"We have reports that prices have come down in Indore markets due to fresh arrivals. Karnataka also reported very high arrival," he said.
With the festive season round the corner and with the possibilities of hoarding, government on Saturday decided to allow import of the commodity to protect consumers.
Meanwhile, in the weekly meeting of crop weather watch, top officials of the agriculture ministry were of the view that the current situation was due to manipulation in retail prices on reports of damage to the crop in the major producing state of Maharashtra.
"Since there exists a wide gap between the wholesale prices and retail prices, it is the handiwork of speculators on the eve of festive season," a top farm ministry official said. -- PTI
The review revealed significant upward rise in onion prices since October 17.