Advertisement
March 16, 2005 07:36 IST
Last Updated: March 18, 2005 17:35 IST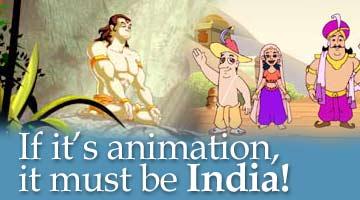 India's animation sector is witnessing a major boom. Overseas entertainment giants like Walt Disney, Imax and Sony are increasingly outsourcing cartoon characters and special effects to India. Other companies are outsourcing animation from India for commercials and computer games.
So what makes India a hub for animation? Why is the sector experiencing exponential growth? In this special series, we take a look at what makes India shine in the world of animation.
---
A full-fledged feature film called Tommy and Oscar is in the final stages of production at the Toonz Animation Studio, Technopark, Kerala. A team of artists and technicians is working frenetically to complete the film for the Italian producer Rainbow Productions.

Applied Gravity, a New Zealand-based company, has outsourced nearly 90 per cent of it animation work to Nipuna Services, the business process outsourcing subsidiary of Satyam [

Get Quote

] Computer Servcies. An animatronics dog for Animal Planet (Discovery channel) for a popular episode called

K9 to11

and animatronics models for New Zealand theme parks were some of the best-known creations of Applied Gravity in India.

The Walt Disney Company has outsourced some of its major animation projects to various studios across India. Cartoon Network is buying animation films made in India. MTV has added India to its outsourcing hub along with the Philippines and South Korea.
A new outsourcing fever has gripped India.
Global entertainment majors like Walt Disney, Imax, Warner Brothers and Sony are signing up huge contracts with Indian animation companies.
And cities in India like Mumbai, Chennai, Bangalore, Hyderabad and Trivandrum have emerged as the country's major animation hubs.
A slew of companies across these cities have dedicated themselves to the outsourced world of animation and special effects. These include Toonz Animation, Crest Communications, Maya Entertainment, Silvertoon Studio, UTV Toons, Zee Institute of Creative Arts, 2NZ Studios, Pentamedia Graphics [Get Quote], Prasad Studios, Acropetal, JadooWorks, Color Chips and Heart Animation.
These animation firms have set up large production studios that are equipped with state-of -the-art equipment and hardware and software like SGI, 3DMax and SoftImage, SFX and processing motion capture facilities.
"Work is pouring in from places like the United States, Europe and Asia in the form of outsourced projects and co-production deals," points out P Jayakumar, Chief Executive Officer of Toonz Animation, arguably India's biggest animation player.
Toonz Animation is a complete state-of-the-art facility, staffed with internationally trained creative professionals from around the world. Its primary studio, Studio A, is located at Technopark in Trivandrum where over 400 artists and technicians create animated 2D and 3D films.
Jayakumar says Toonz formats include episodic television animation, ad films, direct-to-video and feature length.
Animation veterans like Jayakumar says that India has become an outsourcing hub for animation films because:
India has a vast base of English speaking workforce: Animation, which requires familiarity with the English language, benefits when the work is outsourced to India. A number of animation companies in the country are also creating skilled manpower for the animation market through various training programmes.

Presence of good studios: India has the second largest entertainment industry in the world, after Hollywood. Animation studios in the country provide a large supply of low-cost, high-quality software engineers. A number of Indian animation companies have set up hi-tech studios (equipped with state-of-the-art hardware and software) to execute overseas projects.

Low cost of animation services: The main reason why foreign entertainment firms are flocking to India is the cost advantage the country offers. For instance, in the US, animators can cost about $125 an hour; in India, they cost $25 an hour. Toonz Animation offers animation at 25 per cent to 40 per cent lower rates than other Asian studios and much lower than those of American studios.
The total cost for making a full-length animated film in America is estimated to be $100 million to $175 million. In India, it can be made for $15 million to $25 million.
C K Prahlad, an animation consultant based in Bangalore, says the biggest advantage is the cost factor. "Indian animation companies are charging extremely low rates compared to other countries. That is attracting the Hollywood companies to outsource their animation film series to the country," he said.
Major US animation studios and producers are realizing this huge cost advantage that India offers.
"Due to changing viewing habits, channels or networks are being forced to bring down licence fees. As a result, the volume of work has been dropping.
In this situation, India's advantage of low production costs could be a boon to the domestic animation industry," said Margaret Dean, Sony Pictures' head of family entertainment group and a consultant to various animation studios in the US, during a recent India visit.
According to the National Association of Software and Services Companies (Nasscom), the total revenues of the animation production services sector in India were estimated by between $200 million and $300 million in 2004.
Nasscom estimates the animation sector grew at a rate of over 20 per cent last year. "Demand for animation production services from India is growing with the emergence of an organised animation production sector, with state-of -the-art of work required for international TV program production, at substantially lower costs," a Nasscom report said.
Last year, a Nasscom study on the animation industry showed that the global animation production market is set for major growth. The study, which is based on multiple statistical projections on the market, from segments such as industry sources, Pixel Inc and Arthur Andersen (Study on the Entertainment and Media sector) forecast that the global animation market would generate revenues worth $50-70 billion this year.
But which are the countries that India is competing with in getting animation outsourcing?
"Primarily, we are competing with China. But even here, our quality standards are much higher than Chinese studios," argues Jayakumar.
Design: Rahil Shaikh
© Copyright 2008 Reuters Limited. All rights reserved. Republication or redistribution of Reuters content, including by framing or similar means, is expressly prohibited without the prior written consent of Reuters. Reuters shall not be liable for any errors or delays in the content, or for any actions taken in reliance thereon.